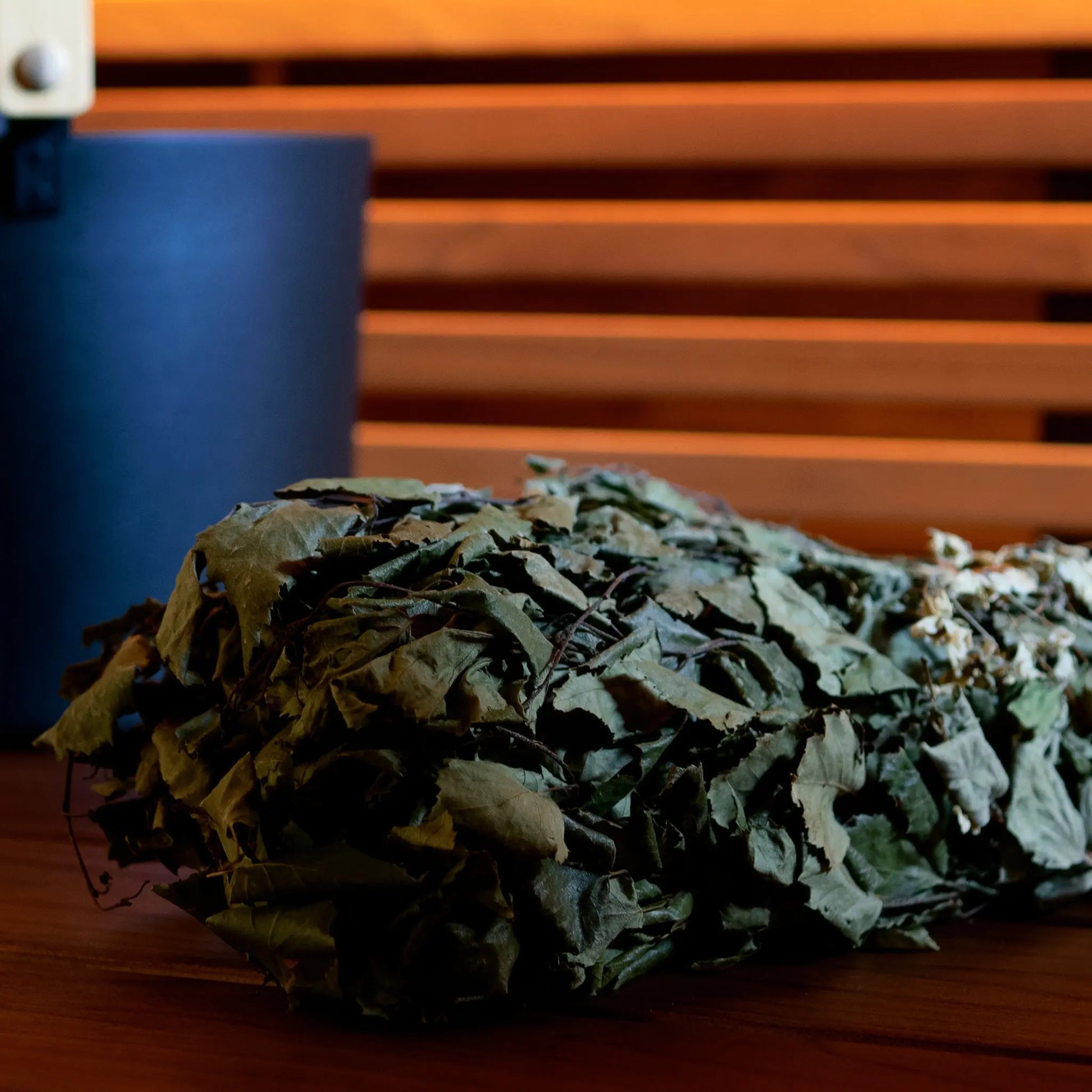 Dried Hand Made Sauna Whisk / Sauna Vihta - Oak & Juniper
translation missing: en.products.product.price.regular_price
€9,95
translation missing: en.products.product.price.sale_price
€9,95
translation missing: en.products.product.price.regular_price
Tax included.
Dried Hand Made Sauna Whisk / Sauna Vihta - Oak & Juniper
translation missing: en.products.product.price.regular_price
€9,95
translation missing: en.products.product.price.sale_price
€9,95
translation missing: en.products.product.price.regular_price
Product description
Technical Specification
Downloadable Files
Oak sauna whisks are popular among those who prefer aggressive or vigorous massage techniques and hot temperatures. Oak whisks are good for experienced sauna bathers and those experienced in hot steam temperatures. The scent of oak leaves creates a sedative effect, strong anti-inflammatory effect and stress relief. Juniper gives the maximal impact to the central nervous system, fights with back pain, radiculitis and improves the circulation of blood. 
Sauna whisks are made during the summertime, usually till the Midsummer. In this period tree leaves are rich with essential oils and aroma. However the cutting and manufacturing period for every kind of sauna whisk may vary. 

Our sauna whisks are 100% hand-made. After the tree twigs are cut, they are tied on using thin pieces of natural linen string and dried in a well-ventilated barn. When whisks are dry enough they are individually packed into bags that provide the whisks with air circulation and protection.
To re-hydrate the dried sauna whisks, soak in a little tub of water (30 minutes in cold water and afterwards 5 minutes in warm water).
Using a sauna whisk is an ancient hygiene tradition and is highly regarded throughout Finland. Using the Vihta is particularly noted for creating an incomparable clean feeling following a sauna, especially when sauna bathing and whisking is combined with a cold plunge. Using a vihta that is regularly dipped into cold water will provide cool, refreshing relief during the sauna bath. A Vihta can be used once or twice after which they should be disposed of or composted.
Some Finn's like to soften the re-hydrated leaves on the hot sauna stones, then soak it again in cold water. Caution should be taken with this approach to avoid burning or scalding, as well as dried leaves reaching the firebox or heating elements.
Directions for use: Soak the whisks before going to the sauna. Remove the packaging. Immerse it first in cold water for 30 minutes. Carefully let the whisk sit in warm (not hot) water for another 5 minutes. Put fresh water in the sauna bucket for the whisk. The warm water that has been infused with its branches works well for sauna steam and gives the sauna a pleasant scent. You can start to use the whisk when your skin has warmed up nicely – gently whisk yourself or your fellow sauna goers. After the sauna, lightly rinse the whisk and let it hang in a cool, dry place. You can reuse it following the same instructions.