Sauna Paraffin Oil - Specialist Sauna Wood Treatment 1 Litre
Translation missing: en.products.product.price.regular_price
$41.00
Translation missing: en.products.product.price.sale_price
$41.00
Translation missing: en.products.product.price.regular_price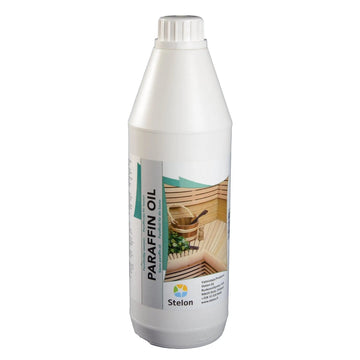 Sauna Paraffin Oil - Specialist Sauna Wood Treatment 1 Litre
Translation missing: en.products.product.price.regular_price
$41.00
Translation missing: en.products.product.price.sale_price
$41.00
Translation missing: en.products.product.price.regular_price
Product description
Technical Specification
Downloadable Files
The Stelon Oy Specialist Paraffin Sauna Wood Treatment 1 Litre is a must-have for those who want their sauna to have a long and issue free lifespan. Creating a natural barrier to keep wood fibers from becoming damaged, while simultaneously hindering the growth of harmful bacteria, this product is recommended to prevent any of these issues from occurring in new purchases of a home wood sauna. This item is good for use with all sauna woods, including high end thermo-woods. It brings out the fibers of your wood in a new and exciting way; make sure you test it on an unnoticeable portion of your installation so you know what it will look like after full treatment.
Completely free of toxins, fragrance, and colour, this treatment kit ensures that excess water does not do lasting damage to wooden areas within your sauna as well as preventing unsightly sweaty tide marks. Ultimately preventing the wood within your installation from becoming brittle, warped and discoloured, this paraffin oil is an essential addition to any sauna installation.
Make sure that your sauna is completely dry and clean before applying this product. If you pour the oil onto a sponge, you can achieve an even coat throughout the treated area; after leaving for about an hour, your wood sauna will have a protective coating that will keep it problem-free for years to come.
Paraffin oil is different from standard paraffin, DO NOT treat your sauna with regular paraffin as this is a fire hazard! Use the RIGHT paraffin oil for sauna wood treatment.
Spreading capacity:
8-15 m2/L.

We cannot ship via Air Mail