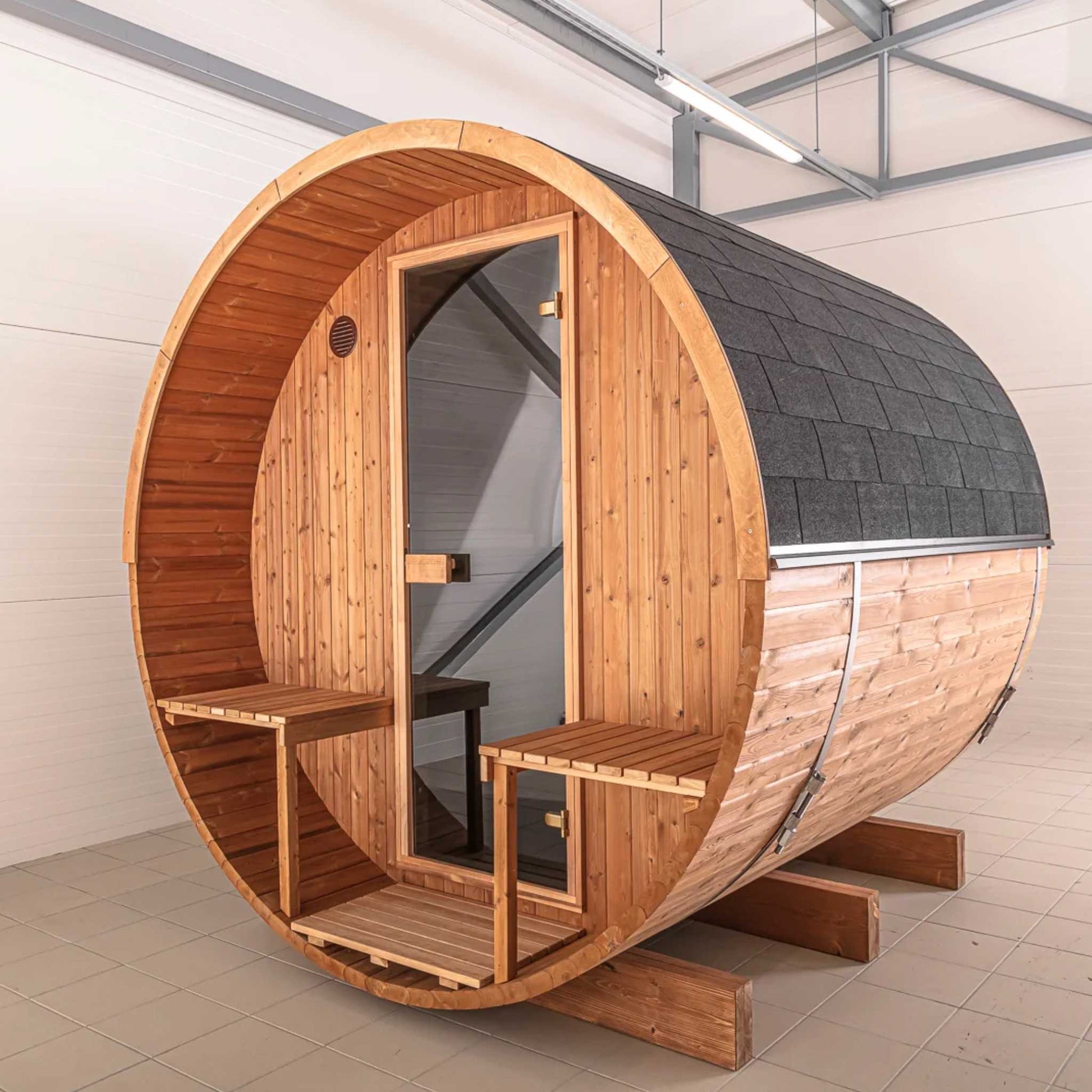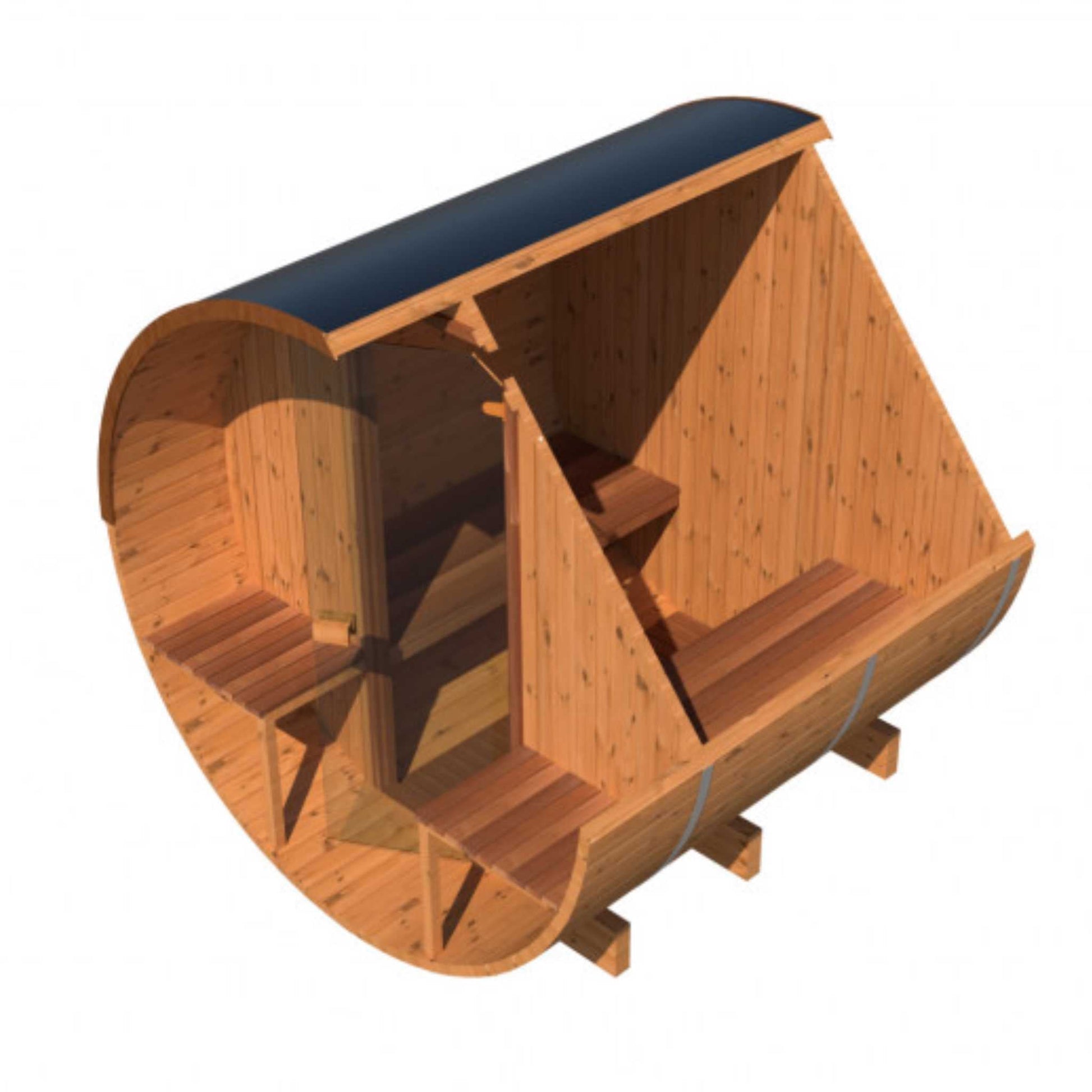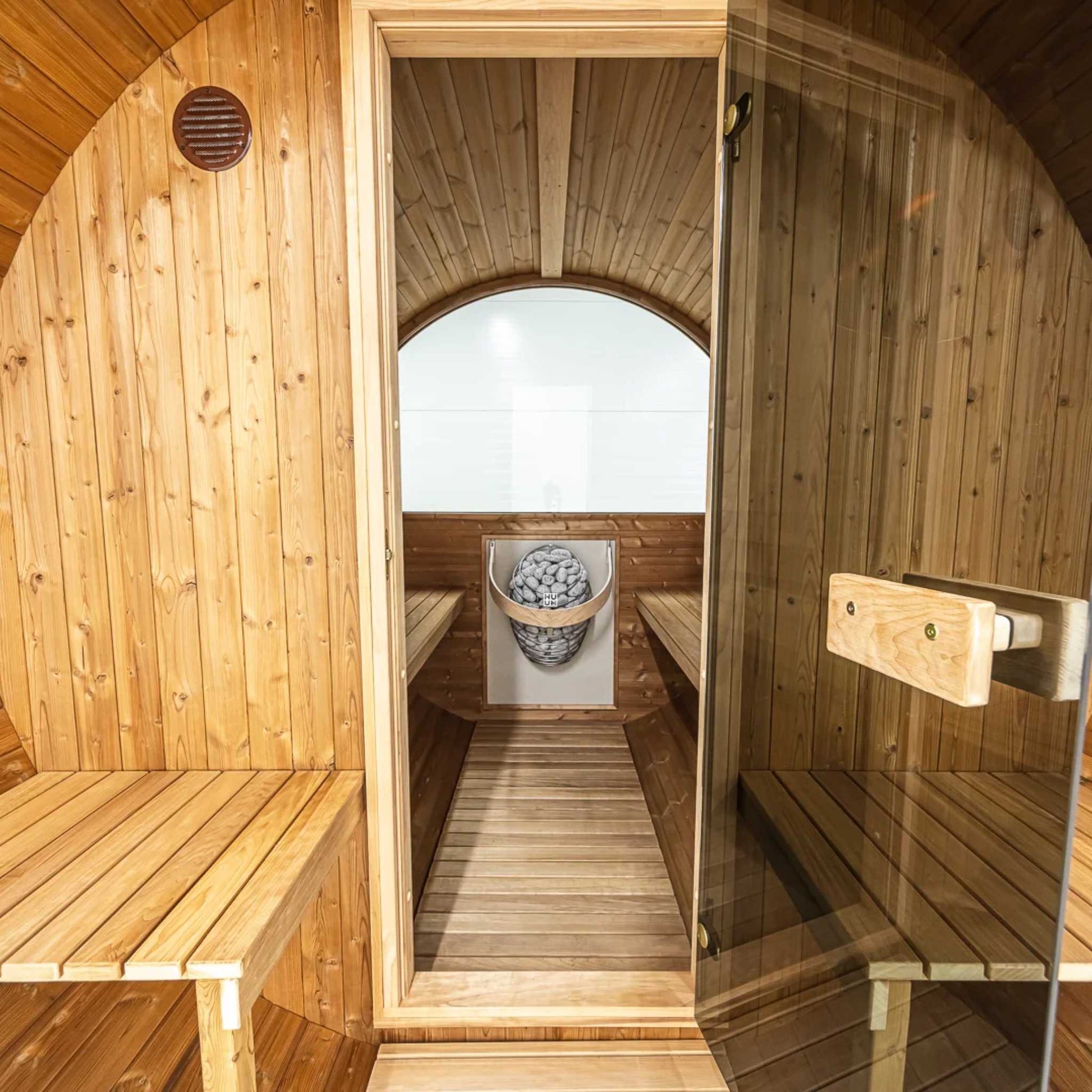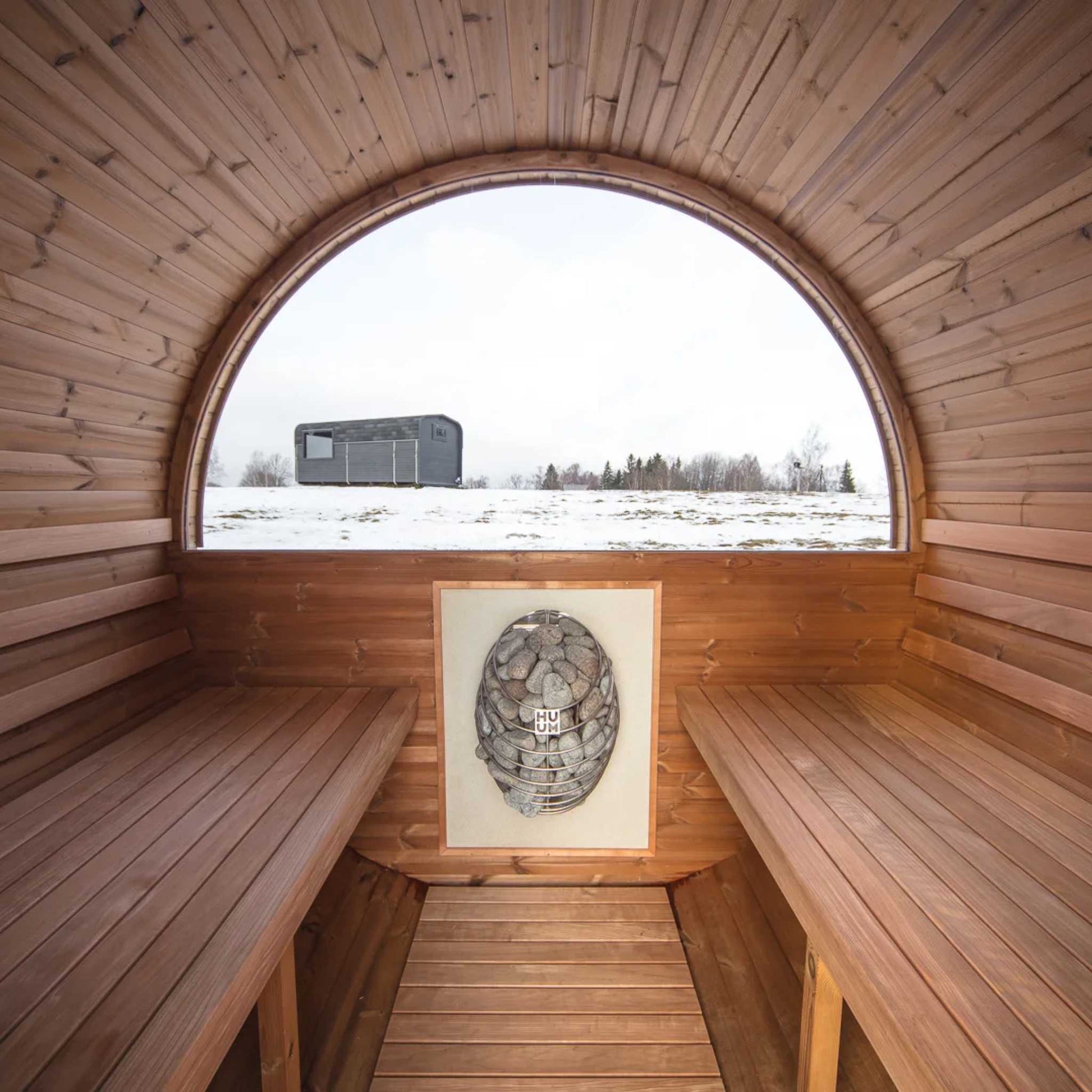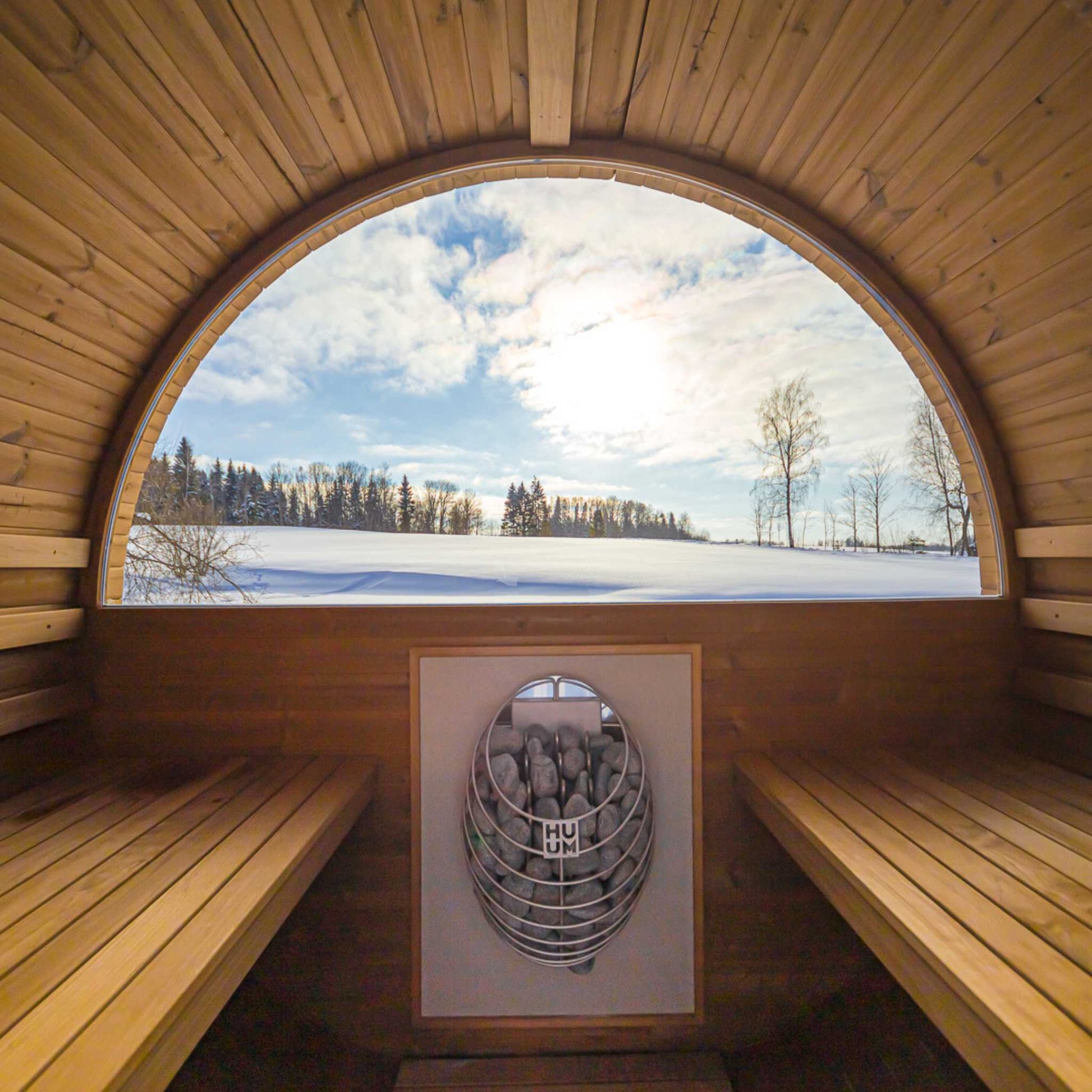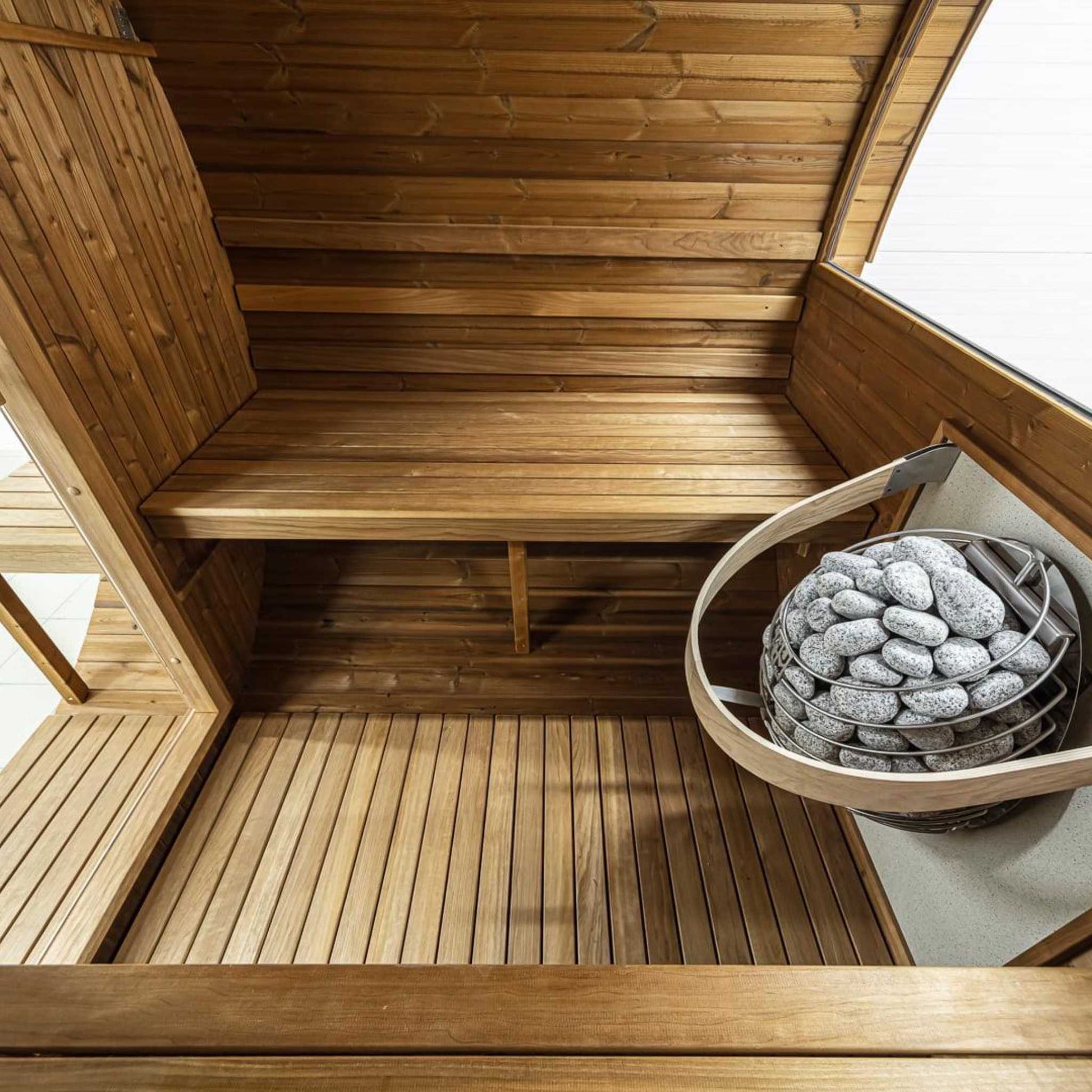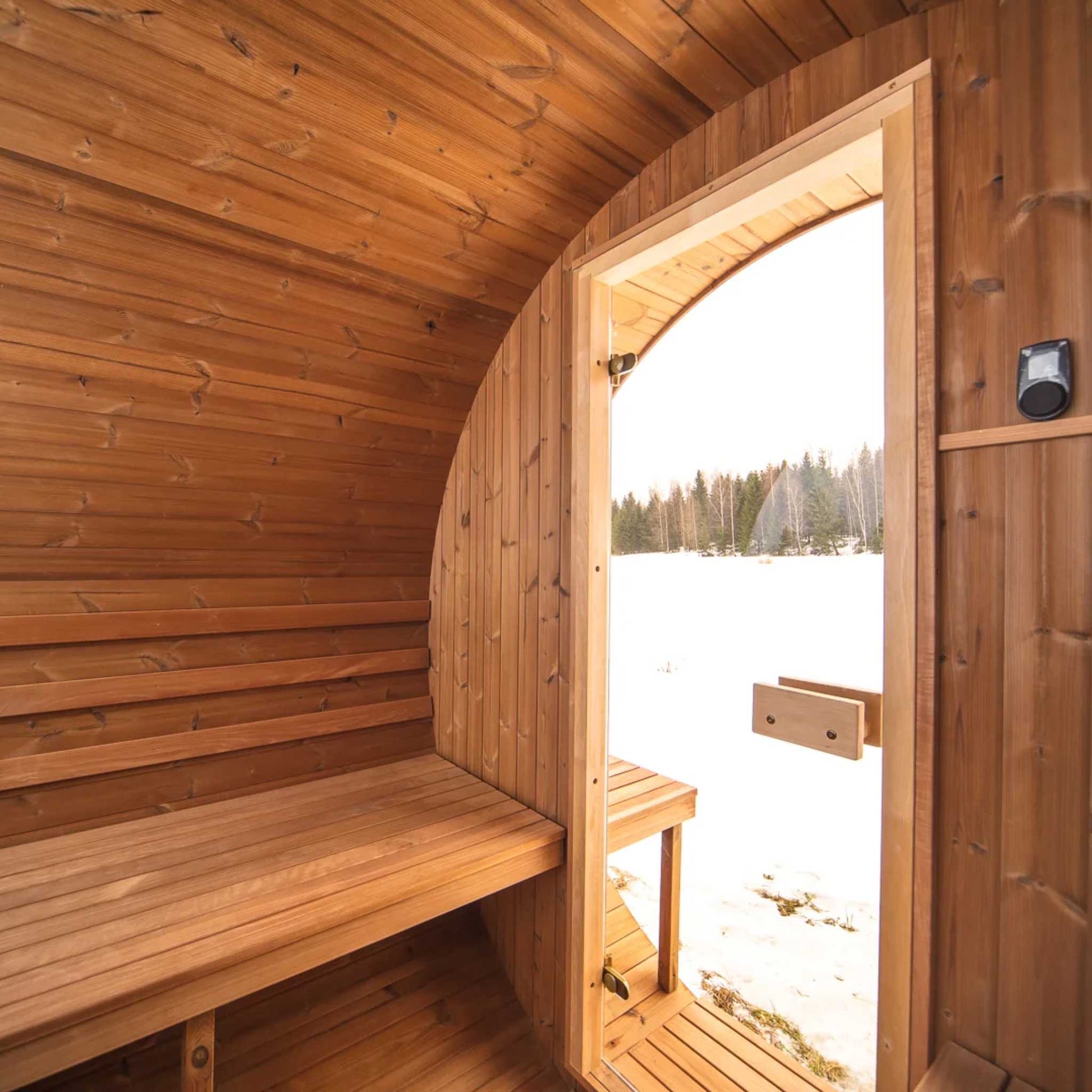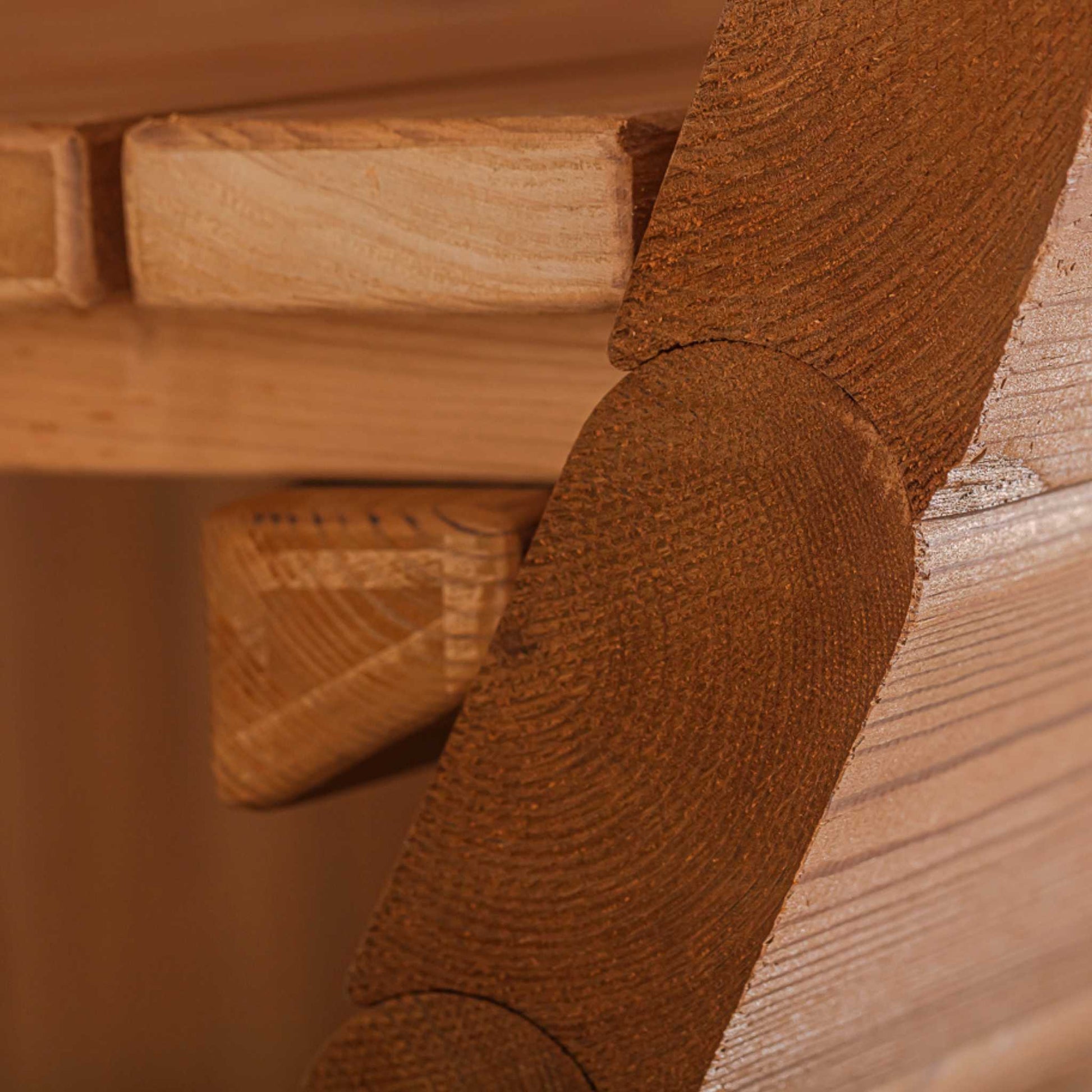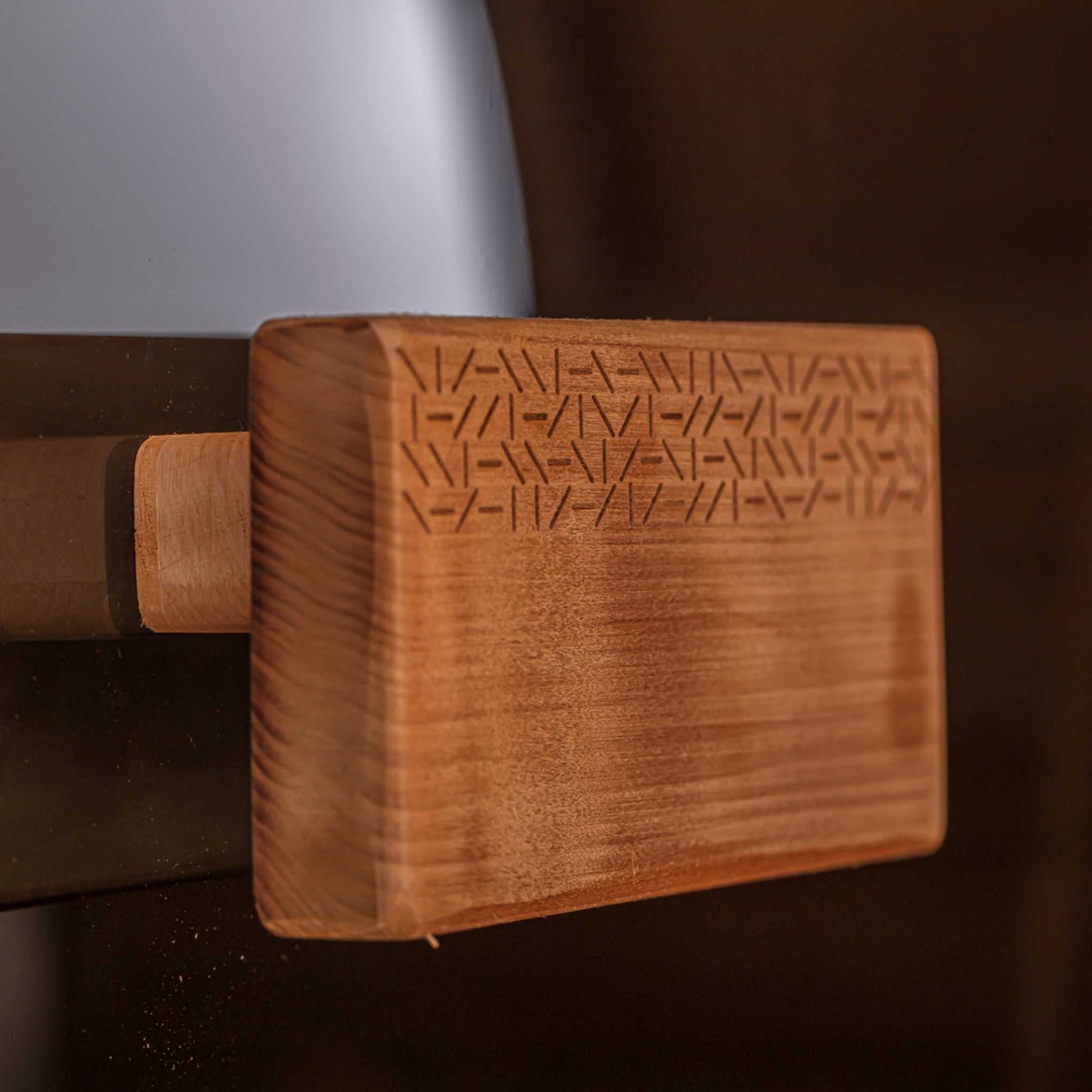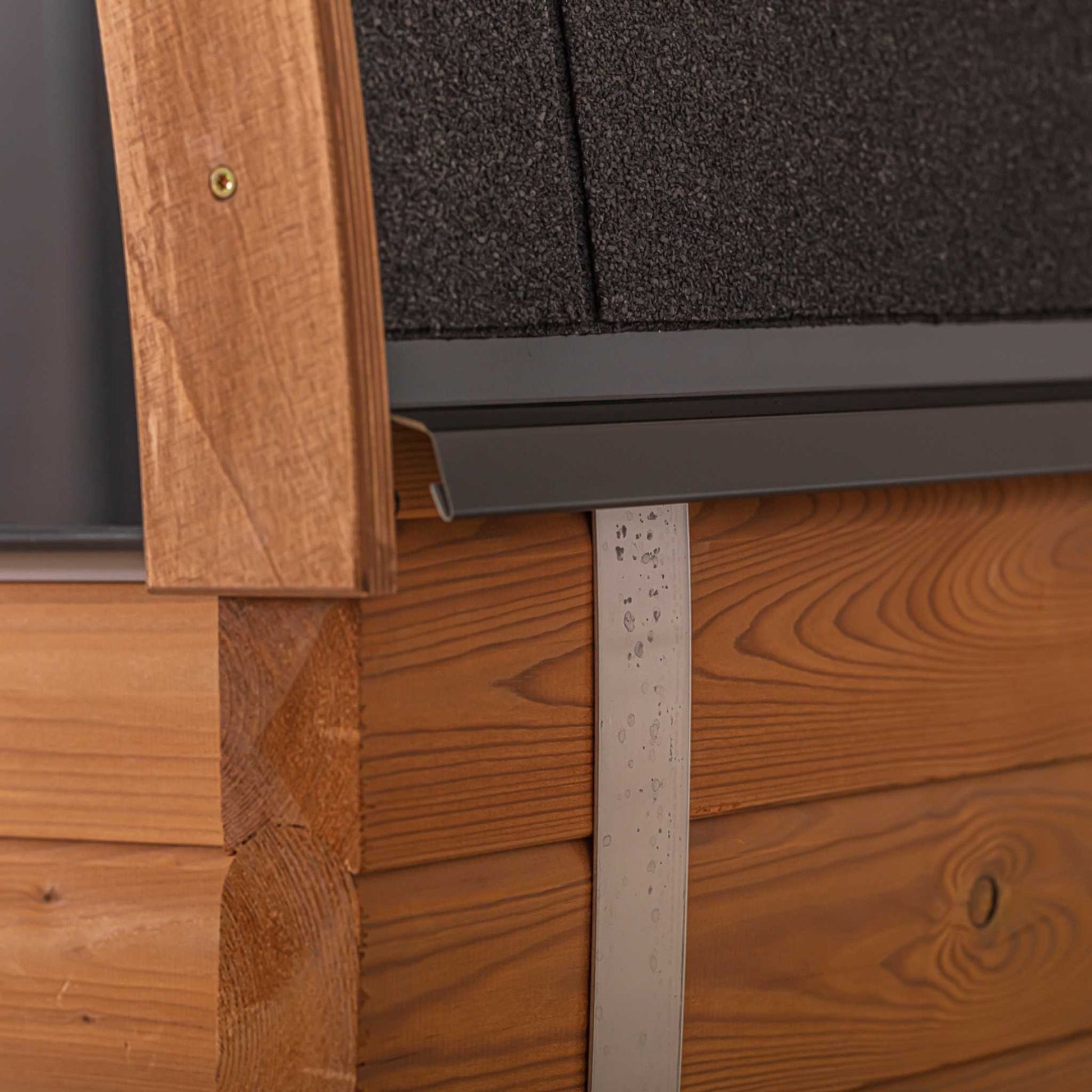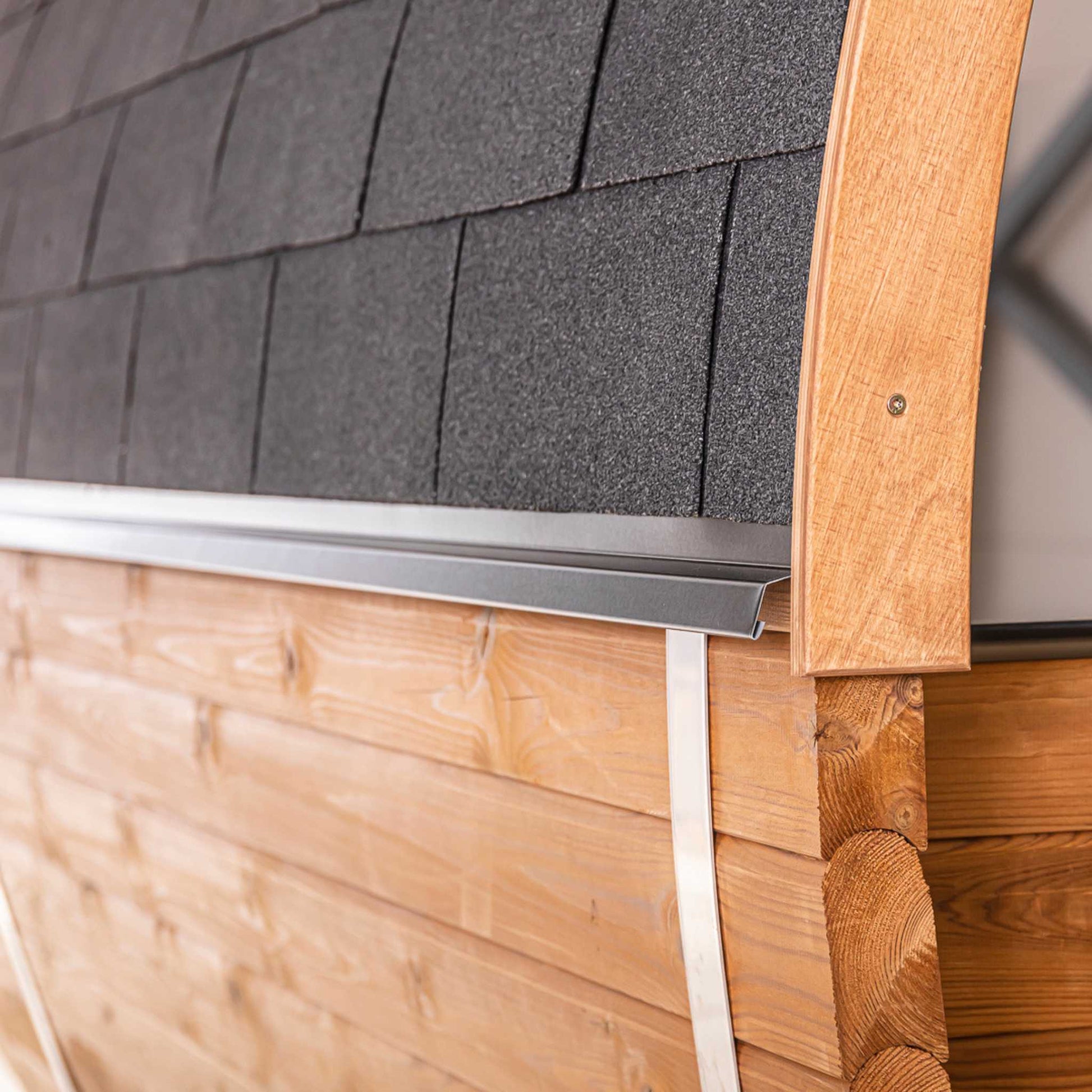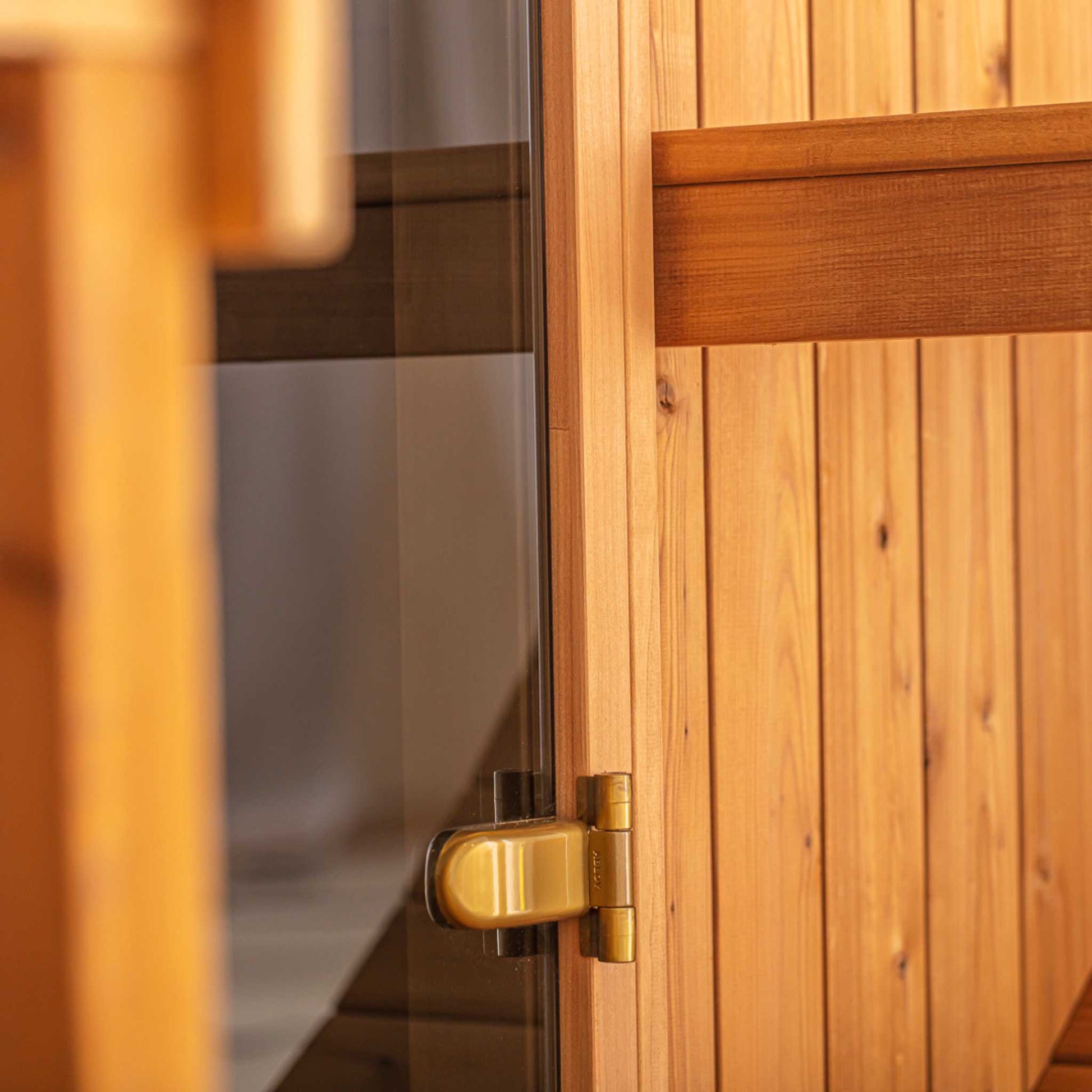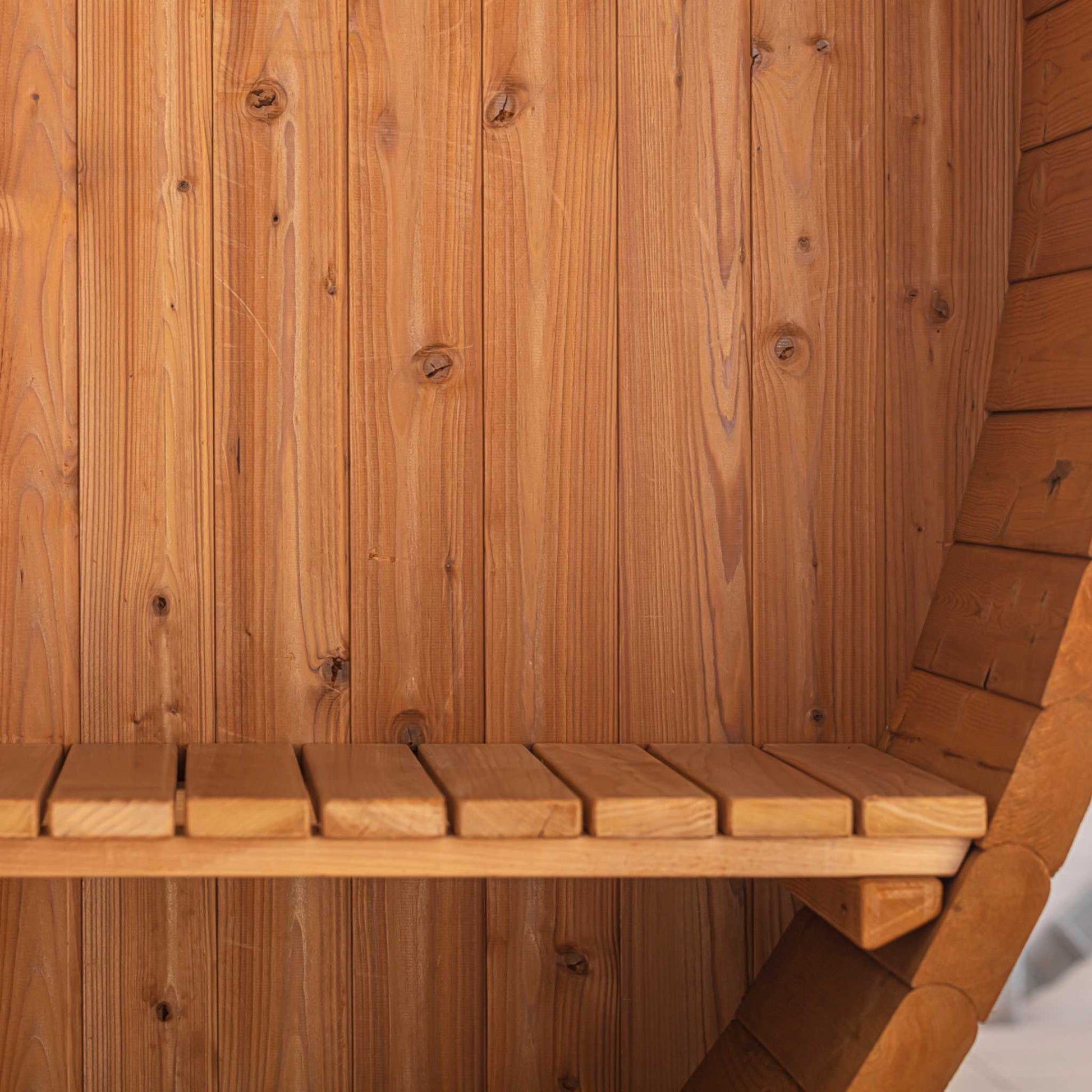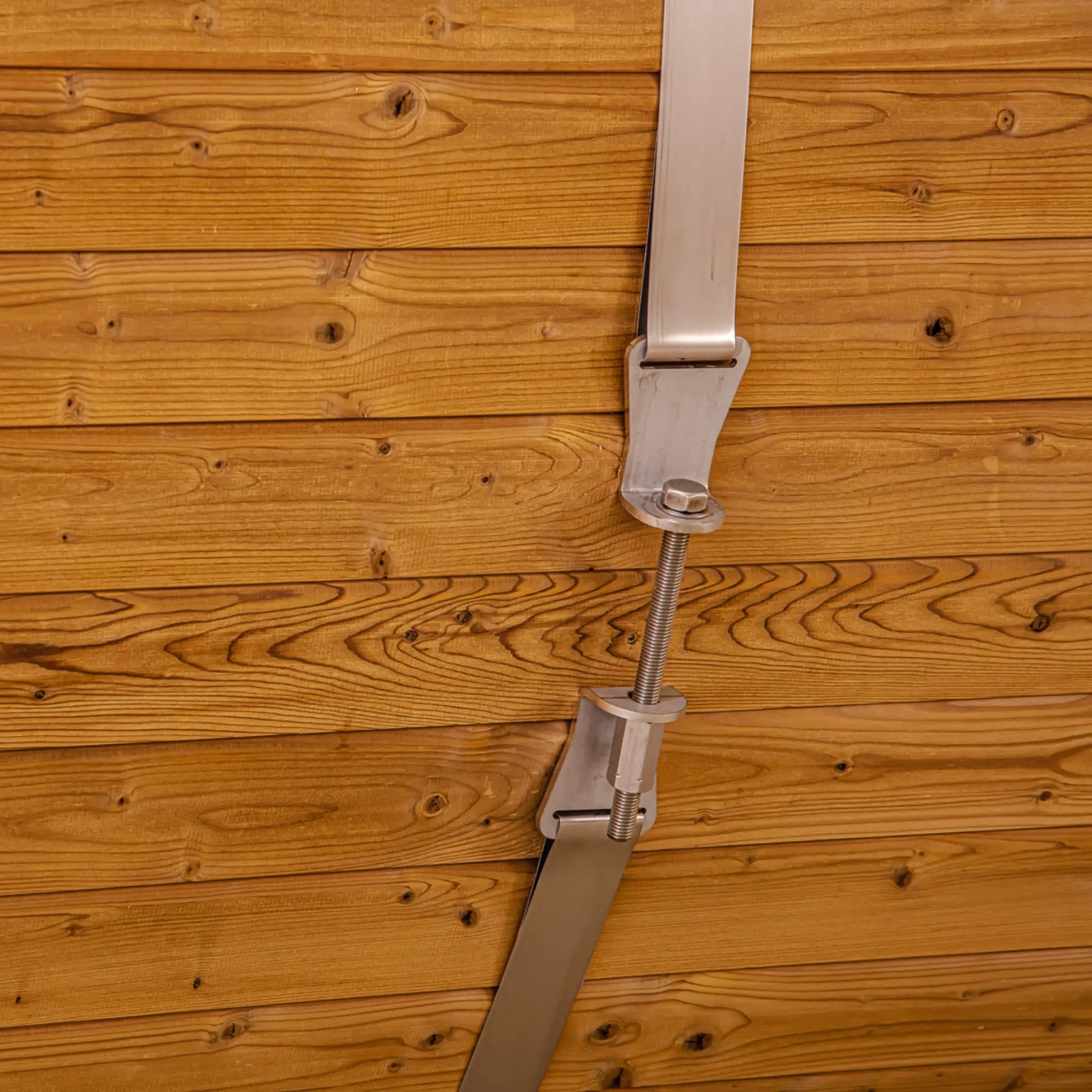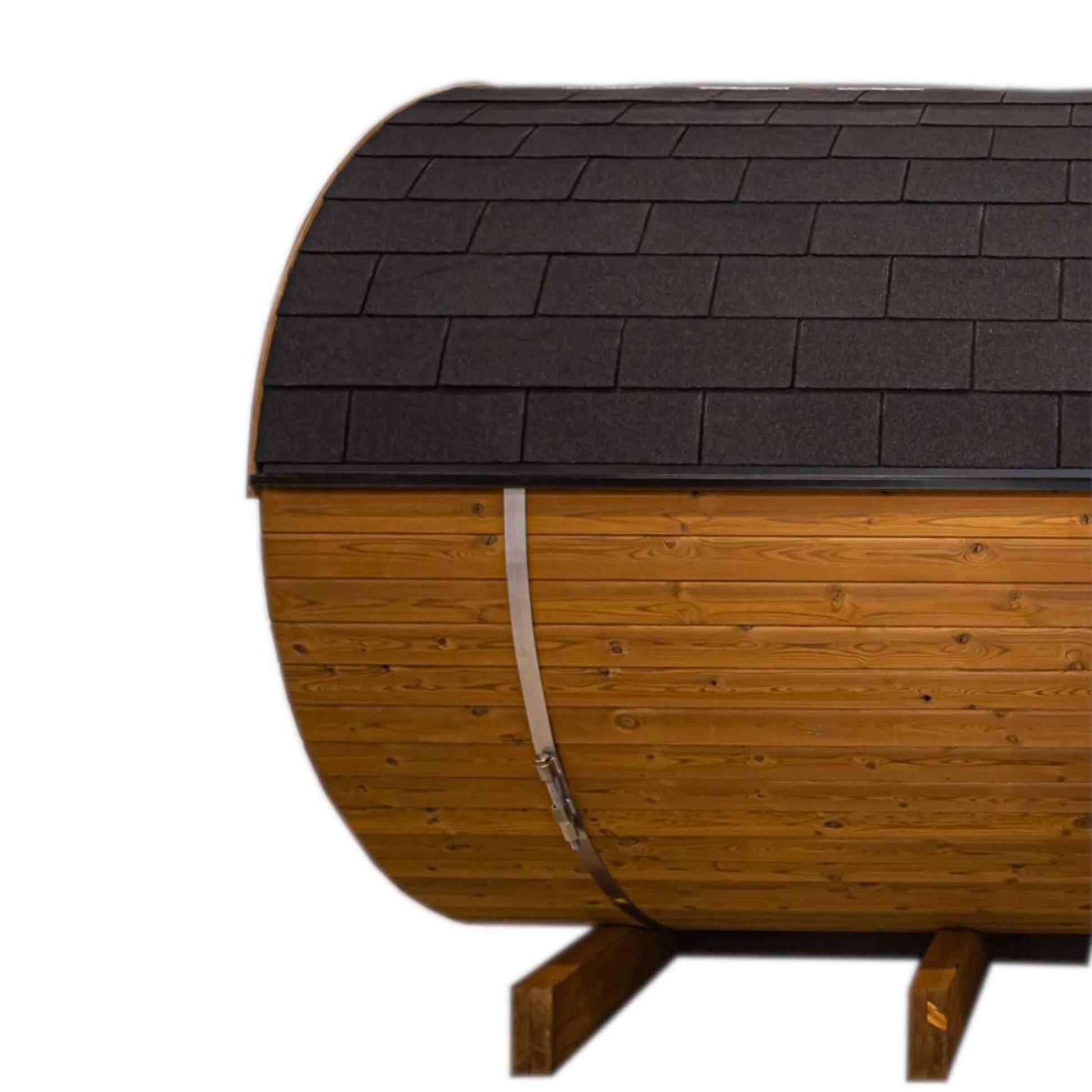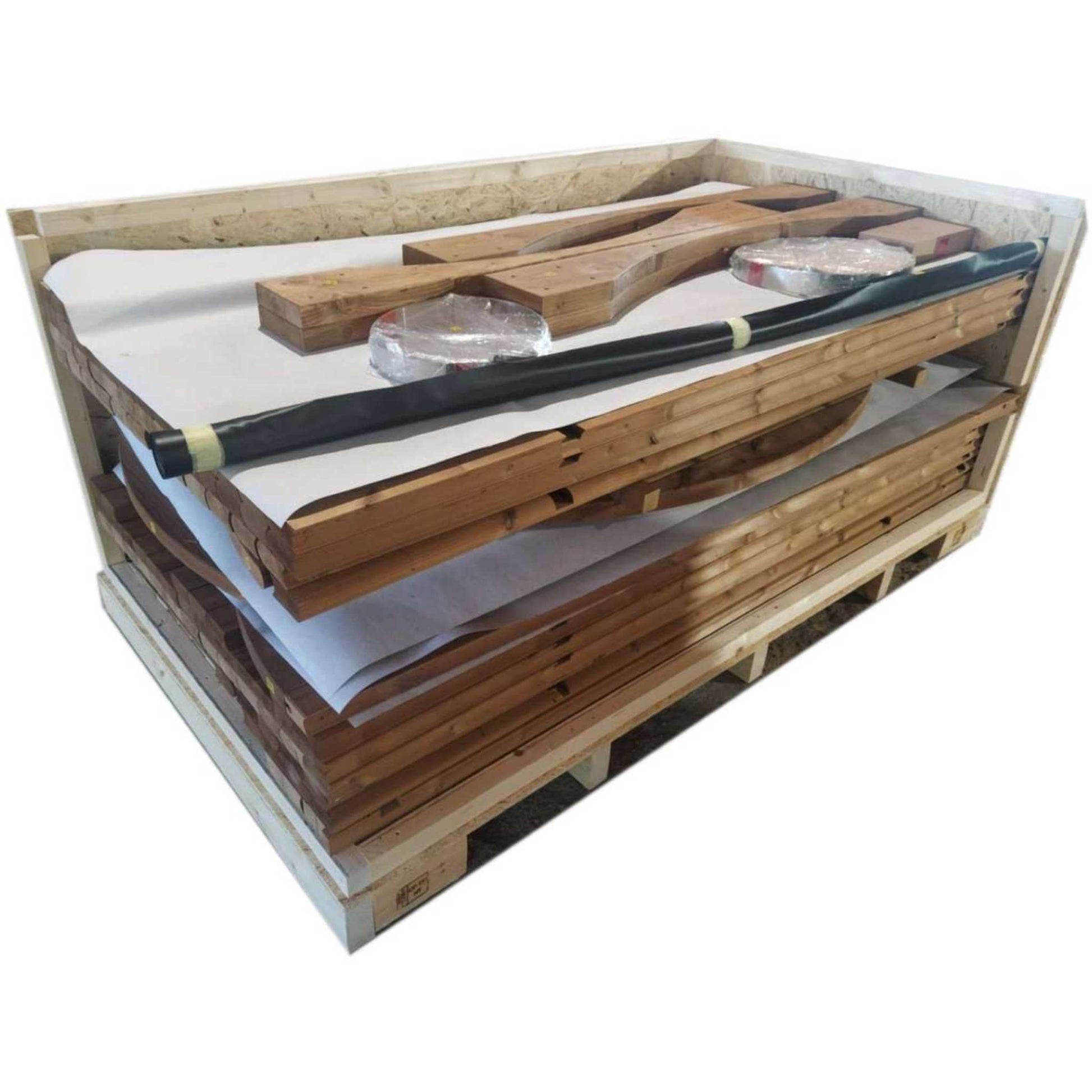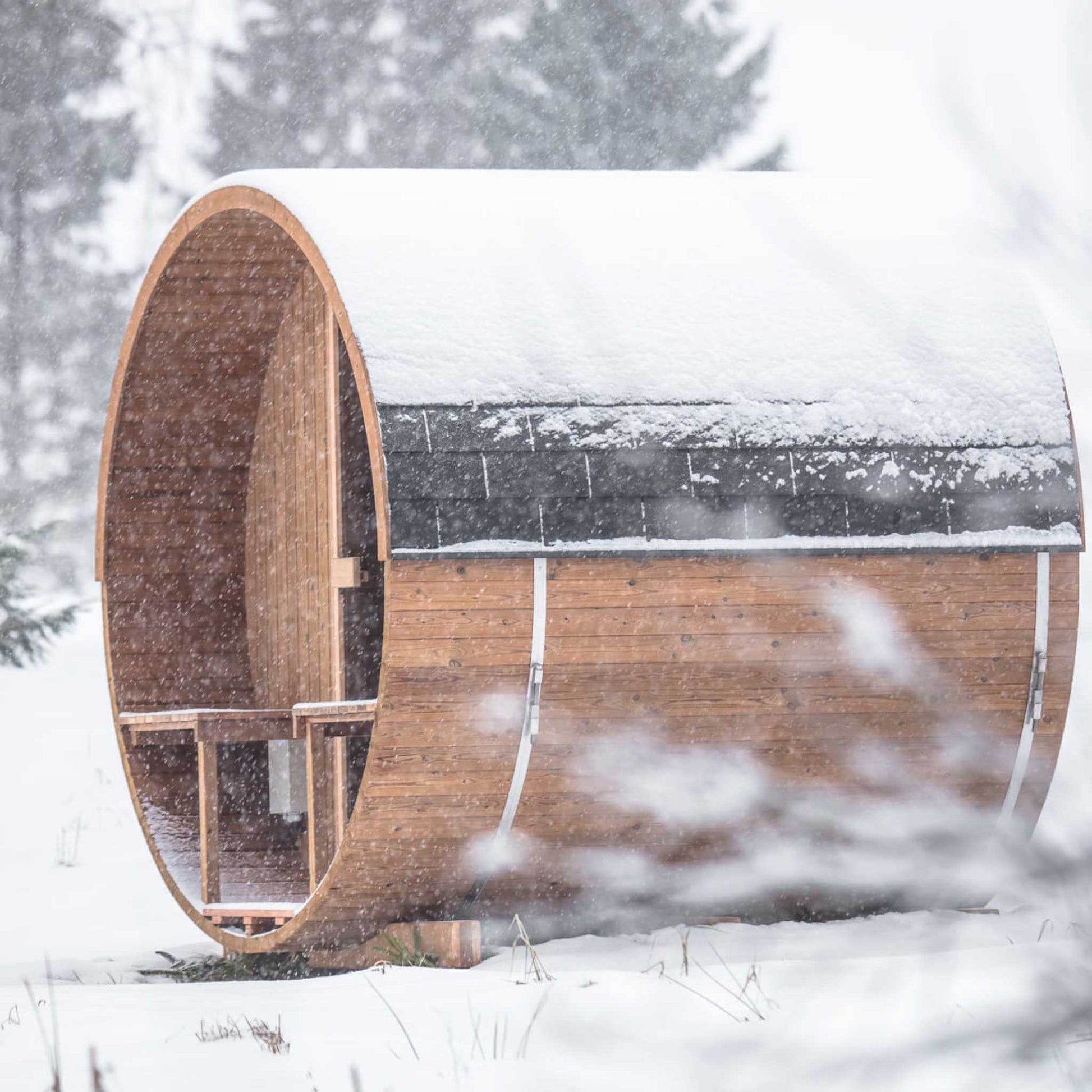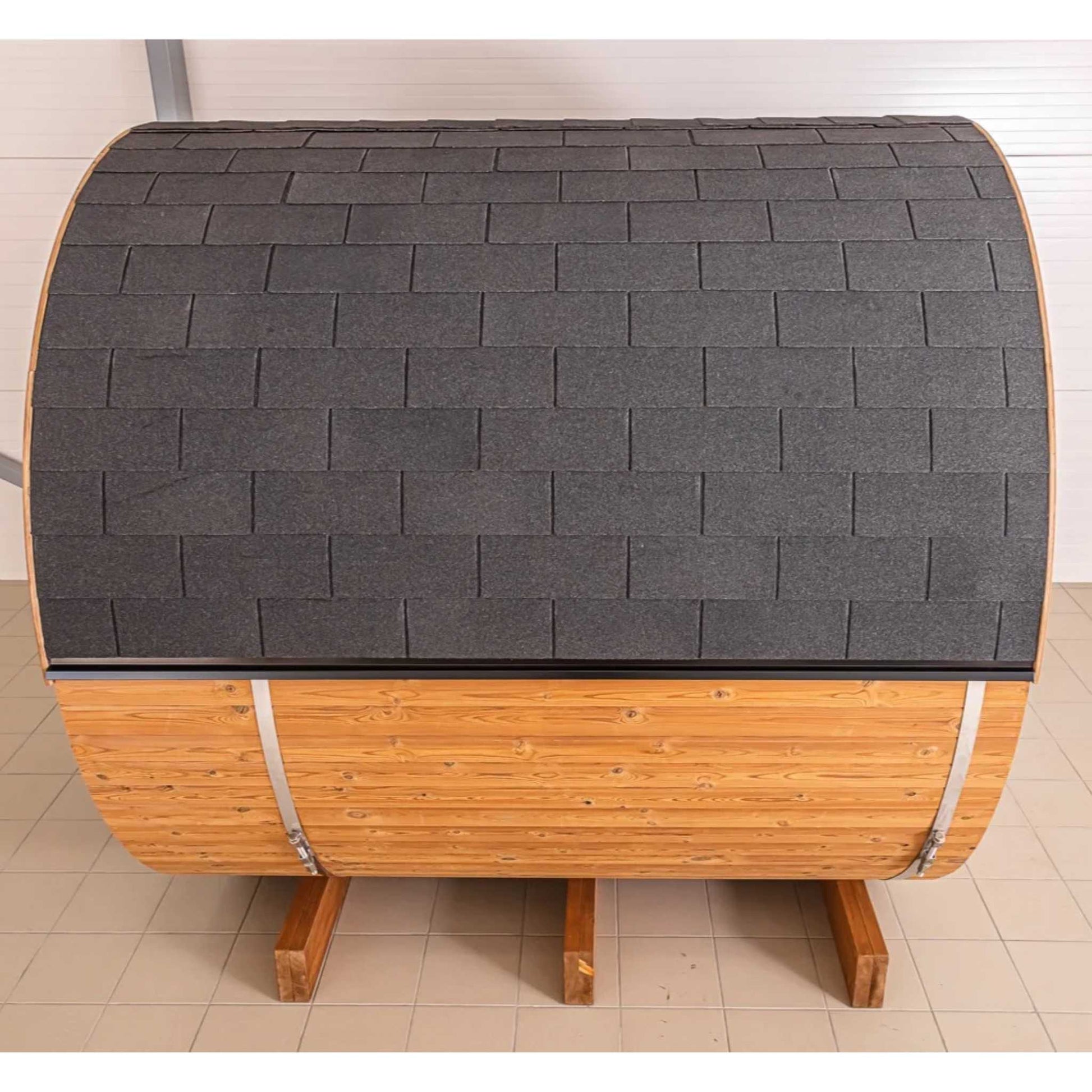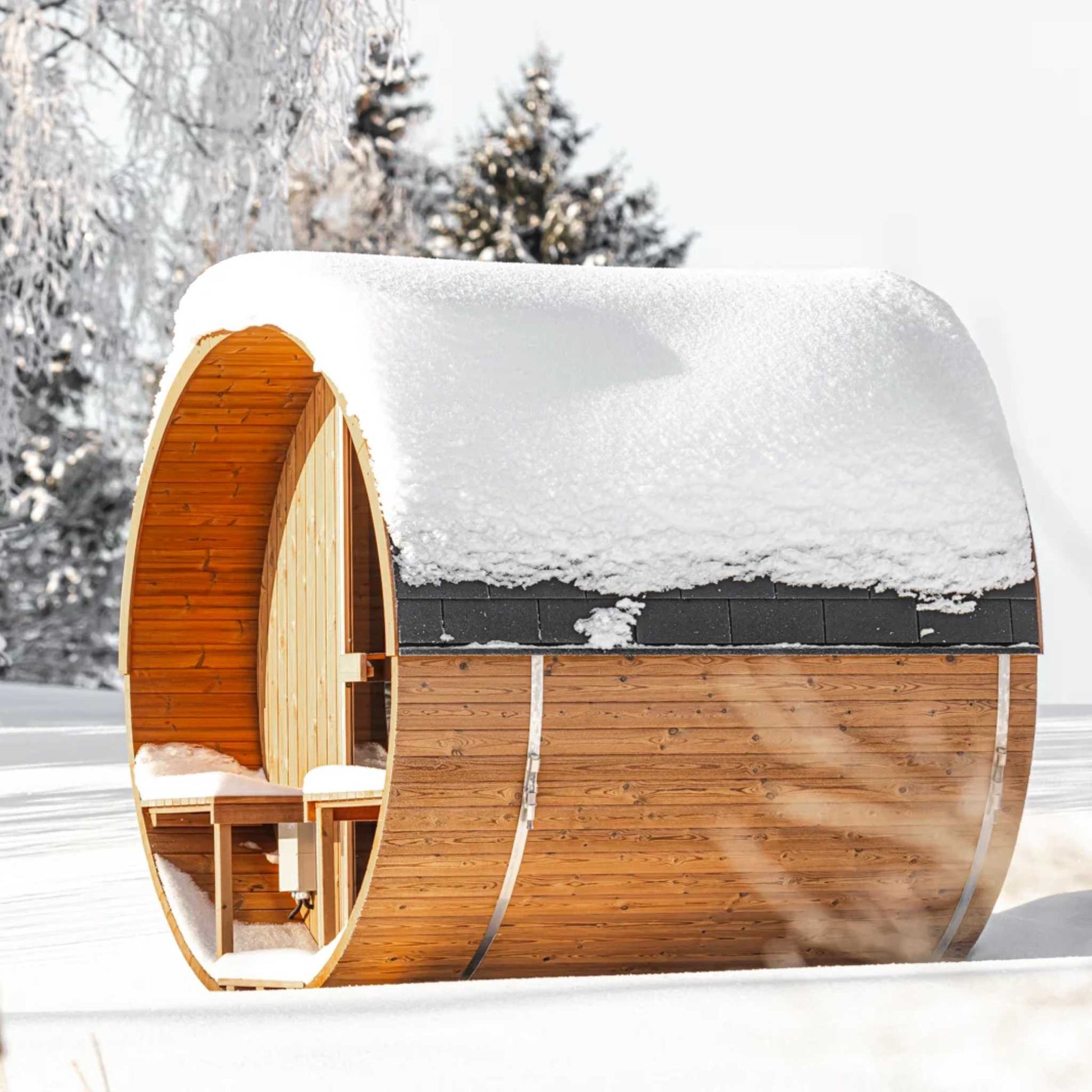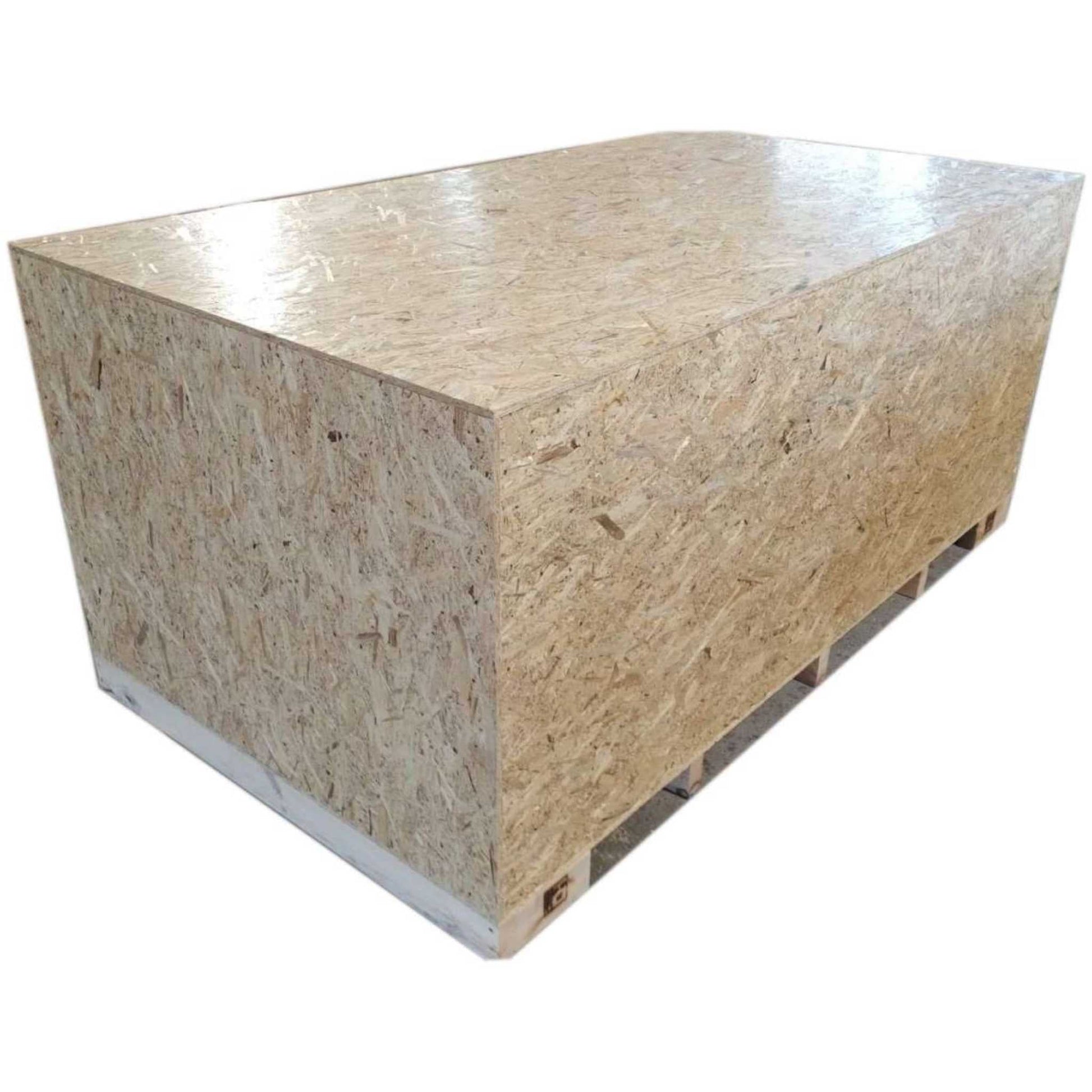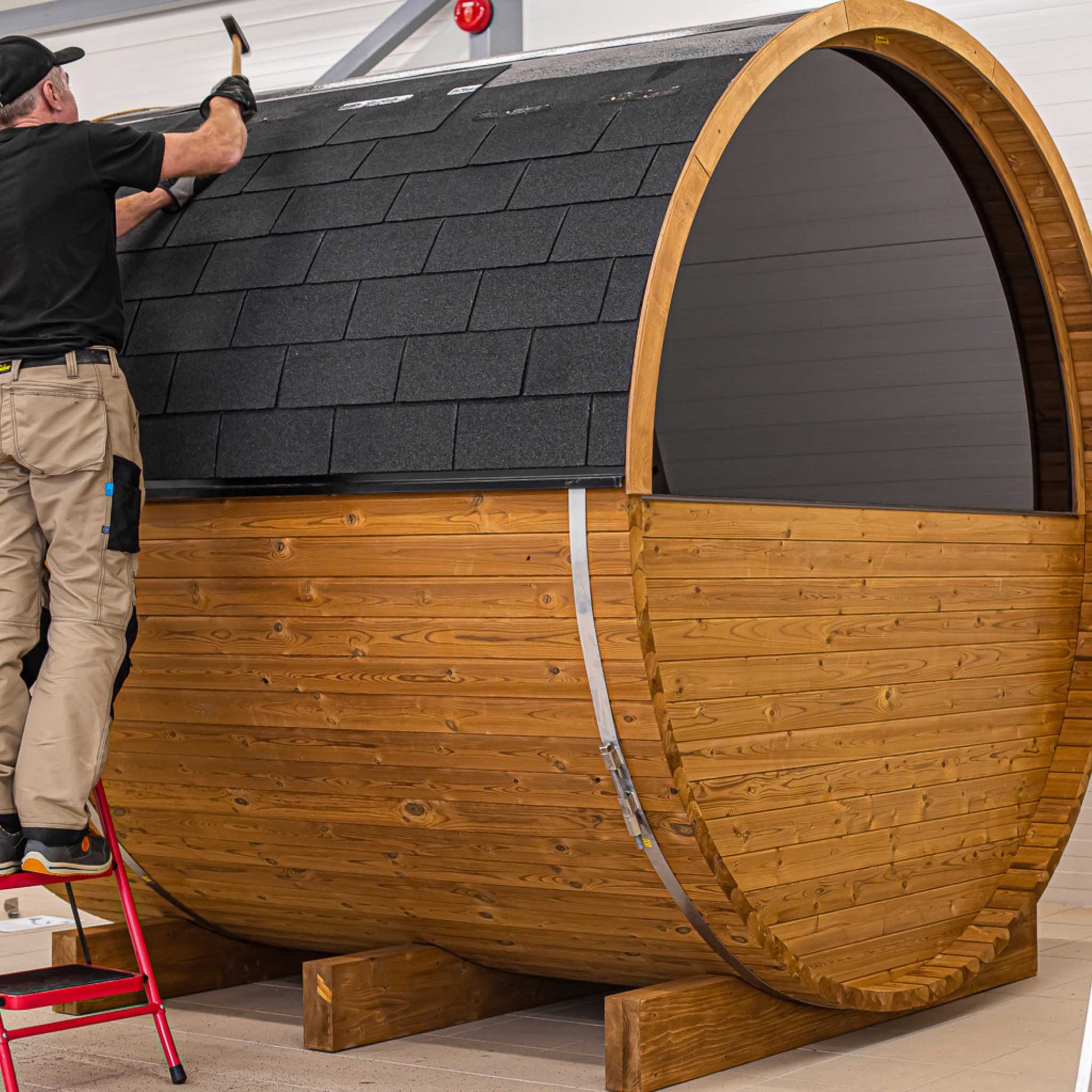 Thermo Wood Barrel Sauna - Regular with Relaxation Terrace (L: 223 & ø: 225 cm)
Translation missing: en.products.product.price.regular_price
$5,369.00
Translation missing: en.products.product.price.sale_price
$5,369.00
Translation missing: en.products.product.price.regular_price
NOTE:
This product has a lead time, please get in touch for more specific timescales
Product description
Technical Specification
Downloadable Files
Outdoor Barrel Sauna: The Best Way to enjoy an Authentic Sauna Experience at Home
Our

 Regular 

Barrel Sauna with Relaxation Terrace is suitable for 2-4 Persons and the Perfect Way to enjoy the Benefits of Sauna Therapy at Home
***Some of these barrels and associated options are subject to longer leadtimes, call us for our latest available stock***
A barrel sauna designed to withstand the rigors of the outdoors! This traditional steam barrel sauna will be a perfect getaway for a most relaxing experience. Thanks to its compact size, the sauna will heat up quickly, efficiently and will save a lot of space. Our barrel saunas feature thicker walls and better stability thanks to 40 mm thick Nordic Thermo Spruce timber.  By using Thermowood, the lighter weight of the material and structural advantages makes it easier to transport and install. 
If you want to learn more about thermally modified timbers, click the following link: Our Thermo Spruce Timbers.
Made by High Quality producers from the heart of the Nordics, known for their excellent craftsmanship and durable material choices. Thermory, the world's leader in sauna wood manufacturing, starts with responsibly sourced premium Spruce and then x-rays each board for internal flaws. Next, all premium materials are heated and infused with steam to ensure their durability for outdoor barrel sauna use. Once thermally modified, Northern Europe's finest Nordic Spruce takes on a distinctive rustic and refined look that compliments any outdoor space.
If you want to learn more about this supplier and discover more products from Thermory, click the following link: Our Timber Supplier Thermory.
Further special features that make this barrel an outstanding choice:
Sustainably sourced Northern European Spruce features a brushed texture, distinct knots, and consistent heartwood colour.
Chemically free thermal modification naturally enhances every board to its core.
Unrivaled rot and moisture resistance with exceptional stability and durability.
Superior insulating properties keep the heat in and stress and worries out.
Intuitively engineered for simple DIY installation.
Product Information (Barrel Sauna Regular with Terrace):
Dimensions: L: 2235 mm x W: 2300 mm x H: 2400 mm; ø: 2250 mm
Sauna Room: 5,5 m³
Capacity: 4 persons
Terrace Width: 50 cm (2x Terrace Benches at 50 cm wide)
Sauna Room Benches: 1573 mm x 567 mm
Space in between the opposing benches: 788 mm
Terrace Benching: 490 mm x 567 mm
Weight: 650 kg (Gross, with packaging); 515 kg (Net)
Warranty: A 5-year manufacturer's warranty for timber structures and housings
Materials Included in the DIY Sauna in a Box Kit:
40 mm Nordic Thermo Spruce Frame,
3x Foundation Beams,
2x Metal Frame Bands,
2x Aspen Benches,
2x Terrace Benches (50cm wide)
Aspen Flooring Duckboard,
Sauna Ventilation Valve,
Plywood End Plates, 
Sauna Door: 8 mm Tempered Glass, 70 x 190 cm, 

(handle on left, hinges on right),

Assembly Instructions in English
The DIY BOX format can be easily transported and allows you to place the sauna practically anywhere.
The barrel sauna is sold and delivered disassembled - in a DIY BOX wooden box, which guarantees significantly wider and more convenient options for transporting and placing the product. If the customer has the necessary tools available and possesses at least a little experience in the field of construction, then, guided by the assembly instructions for the product, it is possible to assemble the sauna soley by the customer. Alternatively, we can also offer an assembly service, get in touch!
Delivery: In a box (flat-packed), optional assembly service available. (OSB box: 125 x 227 x 102 cm)
Optional Extras (Not included with the Standard Box Kit):
Sauna Heater - Select between our electric or wood-burning options. Check out our

 

Huum Drop 9kW

 

and our

 

Narvi NM 9kW

 

here. If you would like to pair it with a different heater, select

 

No Heater

 

in the dropdown menu and add a different one to your cart if you wish. For commercial set-ups, we do recommend using a Narvi Ultra Small commercial heater for example. 

Also check out 

our wood-burning barrel sauna kit

.

Semi-Panoramic Window - To create a scenic atmosphere encompassing your own surroundings. Selectable in the dropdown menu.
Bitumen Roof Shingles - To be used for Barrels in outdoor conditions (should be selected if to be installed outdoors). Selectable in the dropdown menu.
LED Lights and Electrical Box. - To create a relaxing and atmospheric feel. Click here to find the compatible lighting kit for your barrel sauna. 
Paraffin Oil - For an even more durable sauna experience. We recommend 2.5 litres for the outside, but oiling the inside is also advisable. Find our paraffin oil offering here. 
Optional Installation Service - Feel free to give us a call to get a personalised quotation.
Shipping Information on our Sauna Barrels
Shipping costs may vary and will be calculated at checkout. This overrides any pop-ups you may see in emails. Shipping costs also differ between UK Mainland, Highland and Island postcodes. Our barrels will be shipped using a palletised shipping service due to their big and bulky nature and may require a kerbside drop or handballing off the freight vehicles. We are also able to offer a direct-to-site courier at a personalised charge - do get in touch for this service.
Please take time to read our Shipping and Delivery Information carefully before placing an order.
 
For more advice and to receive your own personalised assembly quote, please call or email our Customer Service Team who will be happy to assist (+44 (0) 20 8050 2895 or support@finnmarksauna.com).