We have a highly experienced design team and a large professional workshop outputting full bespoke sauna benching on a daily basis. Fabricating high quality sauna benches outside a professional workshop environment is very difficult and it is clear to see from the results the difference between a bench system made in a workshop by professionals and simple benches cobbled together on site.
Not only do you get a fine fit and finish, but you can install the bench system in less than half a day and avoid weeks of tinkering and fettling to get the benches right. Labour being one of the most costly parts of a build, doing this properly will likely save you cost down the line. You can also rest assured that a Finnmark designed and fabricated bench system is fully fit for purpose with safe load ratings, quality assured and tested by our in-house QA team, and assembled to maximise durability, properly glued and stainless steel screwed, rather than zinc coated nails.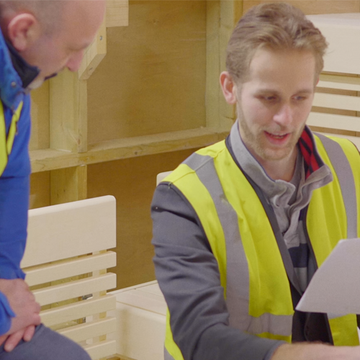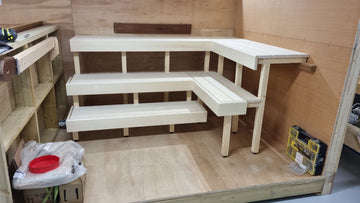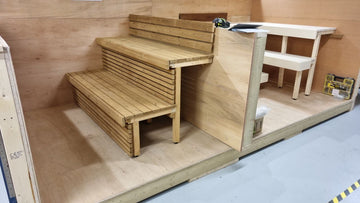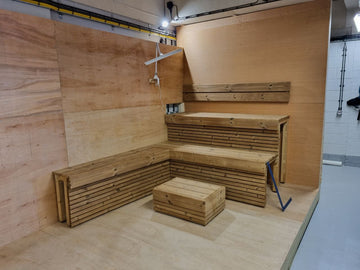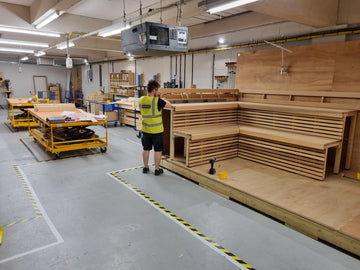 WHAT IS INCLUDED


Additional benefits of working with Finnmark Sauna for your bespoke sauna benches is that we will help you plan the most optimal layout for the space, maximising seating capacity whilst maintaining functionality and ergonomics. We will also curate considerations such as designing sauna benching to include ultra heat and moisture resistant lighting, such as strips and spots concealed within the backrest of the bench lips and create customised lighting set ups as part of the fabrication.
With our sauna bench design and fabrication service, you will get a bench system design and a fixed quotation for the fabrication of this in the materials of your choice. With a custom sauna bench system from Finnmark, we will also provide you with photographic assembly instructions and the assembly plans to make your sauna bench assembly as quick and as seamless as possible.

We have two approaches to this process, one more tailored installers and builders and one more tailored to end users and DIY sauna builders:
Option 1

Our first option designed for end users is that for a small fee, we will arrange a video call to discuss the sauna space and the different layout and material options. You will be required to provide accurate agreed dimensions of the space as we will work exactly to these. We will agree a provisional design on this call that meets your approval, after which we will then create a design proposal and a quotation for this custom bench system.

Once the quotation is accepted, we will then schedule in this bench system for fabrication. Following fabrication and quality control we will schedule in delivery thereafter. The design fee covers one consultation and design so it is important that you have accurate dimensions for the space prior to the call and a good understanding of what you want. Further redesign work required is billed at an additional design consultation fee.


Option 2

Our second option is to quote against an existing CAD model produced by another company. We will review the bench system CAD model and confirm any required adjustments due to materials, availability or fabrication considerations, and confirm a fixed price for the fabrication and delivery of the bench system. This service is designed for sauna fitters and design build firms with superior CAD modelling competency who can provide CAD drawings of exactly what they want us to fabricate.

Please note, submitting simple hand drawn images or basic models will require our team to do a design and therefore will be charged and treated as option 1. If submitted drawings require alterations to match stock material sizes, this too will be charged as option 1.
We aim to provide you with your design pack within two weeks of the initial video call. This fluctuates however depending on demand and can be significantly longer. Once at the front of the design pipeline, a project usually takes one of our skilled designers several days to put together for you.