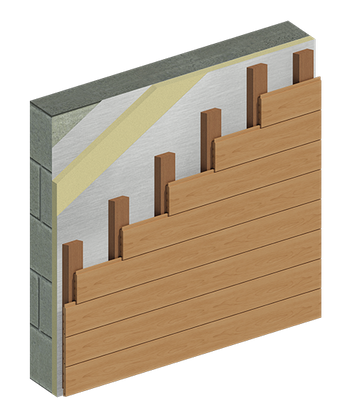 SAUNA ROOM PREPARATION


We start our installations by applying fire line board to any non-masonry walls. A safety precaution we take out of choice, and something we believe we are unique in specifying.
You can safely insulate and vapour seal saunas a couple of ways, but we specify the more durable and more comprehensive use of specialist sauna PIR insulation, with brands such as Finnfoam and Kingspan Sauna Satu. Properly insulating and vapour sealing is a critical part of your sauna build as it protects your house from the heat and the humidity within the sauna, and ensures quicker heat up times with better energy efficiency.
To allow the cladding to breathe and improve longevity, we space our cladding from the vapour barrier layer using battens. However, we don't just use raw timber for this, as that would warp over time and itself be a moisture trap. We have our own proprietary thermo treated battens which are far more dimensionally stable, durable and moisture resistant. 
Ventilation is a critical consideration for all saunas as you need fresh air in and exhaust air out to ensure a relaxing, healthy sauna experience and prevent a stuffy, nauseating sauna. Most sauna heater manufacturers specify a number of air turns required per hour (usually six), and well modelled ventilation will also help prevent stratification, ensuring all of your body experiences the relaxing heat and steam, not just your head.
These are things we do for all our installations as standard that we are confident you are unlikely to find anywhere else!
SAUNA TIMBER TYPES
Timber is a central component of any sauna construction, and it is one that will have a substantial impact on the sauna's cost, ambience, appearance, longevity, and durability. The sauna timbers supplied and used by Finnmark have been selected exclusively from grade-A stocks and milled to an extremely fine standard. This means they are of the highest quality available and are exceptionally attractive and robust. We make it our mission to only source sauna timber from FSC-approved suppliers which have been sustainably sourced with extensive consideration for people, wildlife, and the environment.
Click on the swatches below to learn about each sauna wood type...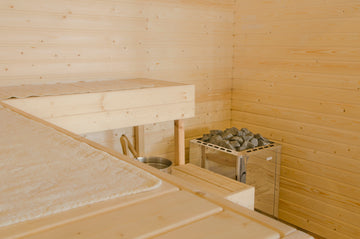 Spruce (Picea abies)
Spruce is an entry level sauna wood type that we generally avoid using in our bespoke installations. Whilst fairly durable, it tends to quickly darken and can become brittle as well as weeping molten resin from its knots. It can be used to better effect in small feature-areas to add some texture. This may be a consideration for smaller, very budget conscious installations.
Select another swatch above or move on to Cladding Options by clicking the tab below...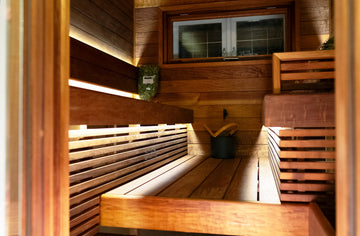 Thermo Spruce
Thermo spruce is the thermo treated version of our entry level sauna wood Spruce. The thermo-treatment process makes the wood more durable than its not-treated counterpart.  The thermo treatment process also removes the resin so no risk of weeping molten resin from its knots. It can be used to good effect when brushed to create a rustic, distressed aged wood effect, complimenting equally an agrarian barn-like setting or Swiss Chalet. Thermo-spruce is typically slightly more cost effective than thermo pine, though this is noticeable in the quality of the finish.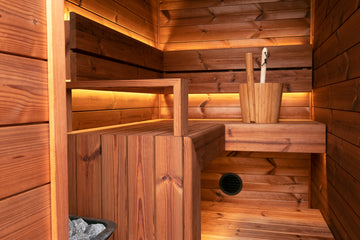 Thermo Pine (Pinus sylvestris)
Thermo pine is a dark, chocolatey coloured sauna timber with a slightly toasted aroma. This sauna wood type is known for its durability that is achieved through a thermo treatment process, making it a durability class two timber. Thermo pine has natural knots that can be slightly cracked, although this more rustic aesthetic appeals to some sauna users. It is the most economical thermo treated timber, so a good choice for the durability conscious buyer on a budget.  Thermo pine is ideal for home saunas that are in frequent use, with high exposure to moisture and humidity such as outdoor or garden sauna installations. It is a good option for younger family groups as it is highly resistant to dirt.
Select another swatch above or move on to Cladding Options by clicking the tab below...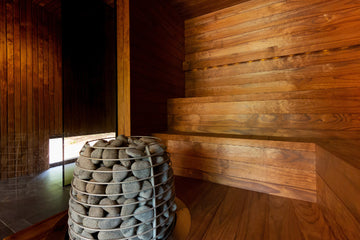 Thermo Radiata Pine (Pinus radiata)
Thermo Radiata Pine is a thermo treated sauna wood species originally from the West Coast of the United States, though predominantly now grown for forestry in New Zealand. Radiata Pine's rapid growth makes it among the most cultivated coniferous species in many parts of the world. This Pine variant boasts very few if any exposed knots and in turn does not secrete resin when hot, coupled with its low density and resistance to splitting and splintering, it is a great choice for sauna benching and cladding. Once thermo treated, it has a beautifully contrasting striped grain colour and patternation, and a smoother finish than standard thermo pine. Availability of Thermo Radiata is more seasonal and may have longer lead times and naturally more premium than regular thermo pine.
Select another swatch above or move on to Cladding Options by clicking the tab below...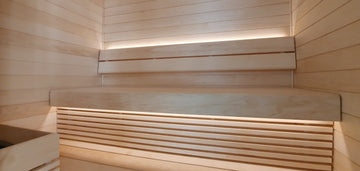 Aspen
This sauna wood is the lightest in our selection, ranging from a very light brown to almost white. The colour and straight, uniform grain make aspen ideal for a sleek, elegant, modern aesthetic in a home sauna. Aspen does not weep resin and boasts few to no knots. Although an excellent sauna timber, chosen for it's preferable characteristics in the sauna, it gets hotter to the touch than less dense timber types like Western Red Cedar. As a light sauna timber, dirt is more visible on the surface in comparison to other wood types. However, this can be easily avoided by using sauna seat covers or remedied by using sauna safe cleaning products and treating the surface of the timber with paraffin oil. We would typically recommend aspen in modern styled properties, in an indoor sauna frequented by adults rather than families.
Select another swatch above or move on to Cladding Options by clicking the tab below...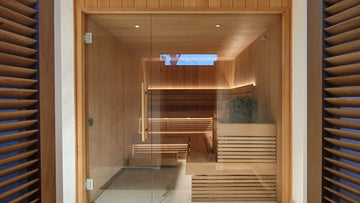 Alder (Alnus glutinosa)
Alder is a popular wood type in home saunas. Alder has historically been used in high moisture environments and is often used in building the submerged sections of jetty's. It is smooth timber that carves to a nice finish making it highly preferable for turning and bowl making. It also leaves a beautiful finish when profiled for sauna use. It is considered a hard softwood and thus is cooler to the touch. With a low risk of warping and twisting, it is ideal for the high-temperature and humid sauna environment. Depending on lighting, its colouration varies from a reddish light wood colour to a warm pink salmon hue. It has a pleasant slightly meally aroma. As with other non-thermo treated sauna timbers such as aspen, we recommend treating alder with paraffin oil to improve its longevity.
Select another swatch above or move on to Cladding Options by clicking the tab below...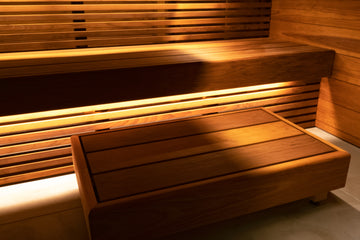 Thermo Aspen
Thermo Aspen is one of the most popular sauna timbers these days. This is due to it's combination of being almost entirely knot free, a thermo wood that boasts enhanced durability and having a sweetly toasted aroma and being one of the lightest thermo woods available giving it a light to mid-tone burnt sienna hue. It is the ideal choice for those seeking a thermowood but with a preference for lighter timber tones.
Select another swatch above or move on to Cladding Options by clicking the tab below...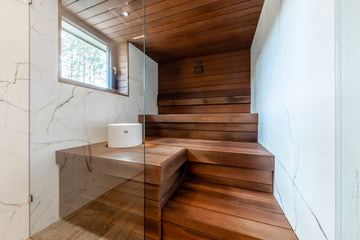 Dark Thermo Alder
By undertaking a more intense thermo treatment process, a much darker thermo wood can be attained. This is something done to great effect with Alder, to produce Dark Thermo Alder. It has an intense dark brown colour and very intense, toasted aroma. It is a good choice for those that appreciate the darkest colour palette for their sauna wood, perhaps for those seeking a more meditative sauna aesthetic, though it's strong scent may be a little intense for some. As with all thermo woods, Dark Thermo Alder is naturally durable and dimensionally stable for use in a sauna. Due to the additional processing required to produce this sauna wood, the additional time required to work with intensely thermo-modified timbers in our workshop, and it's limited availability, this is a more premium sauna timber option.
Select another swatch above or move on to Cladding Options by clicking the tab below...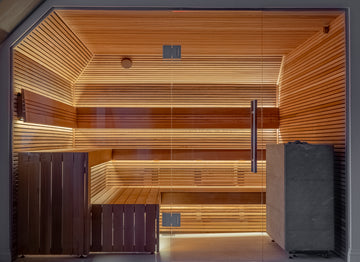 Western Red Cedar
Among the most premium timber options, this wood is a very popular choice for sauna installations. It is a softwood with a distinctive grain pattern and attractive, varied colouring that ranges from pale creamy yellow to rich reddish-brown. This unusual textured colouration makes it highly unique, each board like a fingerprint. As a sauna wood, cedar is known for its beautiful and instantly recognisable pleasant scent. Cedar is a great choice for naturally resilient sauna timber. It is recognised for it's antifungal and insecticidal properties, and it's resistance to heat and moisture, make it an excellent sauna wood that can retain its shape and integrity for many years if well maintained. Twinning Western Red Cedar with a paraffin oil wood pretreatment will help ensure that unlike external cedar cladding, the wood will retain its original colour and not silver down.
Select another swatch above or move on to Cladding Options by clicking the tab below...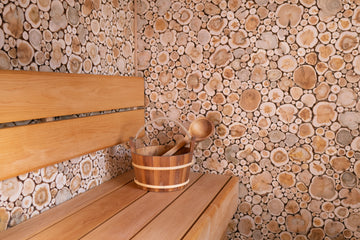 Juniper Log Stack
This unique sauna panelling option has an incredible, fragrant aroma and a captivating texture, making it a popular addition for feature walls and 'splashback' sections behind heaters. The panelling is handmade to suit your specific size and the rings of Juniper can be matched up between panels to make a near limitless length run without the need for visible joins. Each disk of juniper is glued to a sauna-safe plywood and mounted to our battens just as you would mount normal cladding. It can be fitted on any vertical surface in a sauna and we have done sauna installations with this on every vertical surface! It is an ideal choice for anyone wanting to bring texture and aroma to a sauna and makes for great feature walls, especially when side lit with hidden Saas Instruments Sauna-safe strip lighting. As a woodtype, Juniper cannot be used for benching and thus this panelling should be matched with another wood type for the sauna benches.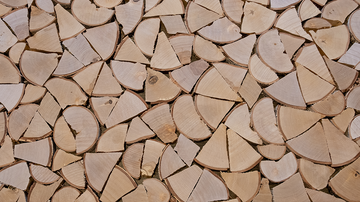 Birch Log Stack
The Birch log stack effect panel is similar to our Juniper log stack panel, without the strong aroma and with more of a rustic traditional aesthetic. This wall panel is Ideal for making a feature that looks like a stack of split firewood. Each split piece of Birch is mounted to sauna-safe plywood and mounted to our battens, much like regular tongue and groove sauna cladding. The split log stack panel matches nicely with light timber types like aspen or contrasted with dark thermo-treated benching.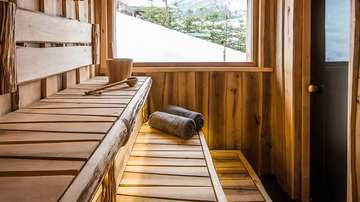 Unedged/Waney Edged Rustic Alder
The waney edged or unedged alder plank cladding is the ideal option for a very rustic, traditional sauna cabin. Each thick board is mounted in an under-over fashion that allows the unique edges of each surface board to be visible. For those who appreciate the log cabin aesthetic, without the exterior space for a traditional log cabin, or for those just looking for something that celebrates woods naturally unique shape and appearance, this is an excellent choice. Due to greater thickness of the cladding Requires larger build up as boards are fitted under-over and are naturally thick boards which should be considered if you are designing into a smaller space.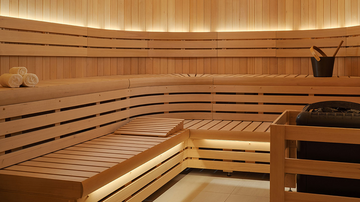 Western Hemlock
With a light buff colour, soft touch and coarse grain, Canadian Hemlock is well suited for sauna interiors. It is durable, relatively knot-free and is noted for its resistance to warping within warm environments. Hemlock re-radiates the heat evenly, without hotspots, making it pleasant to touch. Canadian Hemlock also has a delicate but enjoyable aroma. Hemlock is sourced from North America and is profiled to order, with typically much longer lead times than our other options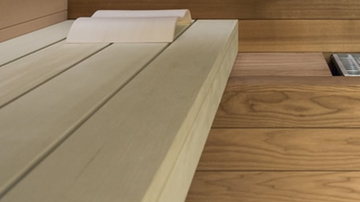 Thermo Ash
Ash is a strong hardwood noted for its durability, stress resistance and decorative purposes. Thermo Ash is primarily made from American ash which is known for its attractive texture that beautifully complements exterior walls. Thermo ash is highly prized for exterior cladding and decking but, as a hardwood, is too dense for use as sauna benching. It can, however, be used in some instances as beautiful sauna cladding. Our thermally modified ash takes on a dark brown hue with a distinctive grain texture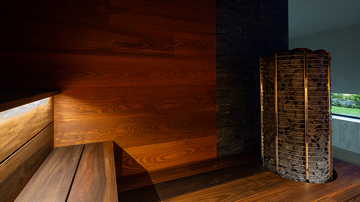 Thermo Magnolia
Magnolia, sometimes known as the tulip tree, belongs to the magnolia family. The wood in its raw form has a creamy, golden hue with darker patches, and a pattern similar to that of ash or radiata pine. Once thermo treated, the wood takes on it's remarkable, luxurious, refined finish. Coupled with its low density, it makes for perfect sauna cladding, sauna benches, and even exterior paneling. Generally only available in wider cladding and bench boards. It is a very premium sauna option typically with long lead times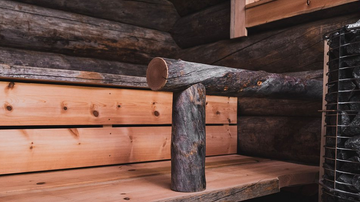 Kelowood (Rustic Deadwood Spruce)
The noble Kelo wood is ideal for a sauna where a rustic aesthetic is desired. Recognised for its bare bark, it brings a piece of Lapland to any sauna. Kelo is born from an upright dried pine-tree that has dropped its bark.  The formation of a Kelo takes centuries (200-300 years) after which the tree can still stand for many decades. The helical structure of Kelo wood improves its stability and resistance to warping. 
Kelo has a grey exterior with red tones in its heartwood. The cracks and burls of this rustic sauna wood are what makes it unique. It is a true symbol of Northern nature.  Kelo imparts its incredible rustic aesthetic in a sauna with the use of lightweight panels, 'kelo panel'. Kelo panels are wall sections made of kelo wood that allow us to turn any wall into a genuine kelo surface and bring a bit of Lapland to you. Kelowood planks can also be used as under-over cladding boards like unedged alder planks. These Kelo planks can also be used to create a highly rustic sauna benching.
CLADDING OPTIONS

With many of our sauna cladding wood types, a range of profile options are available. Using different sauna cladding profiles can add contrasting textures and help create more modern or more traditional sauna aesthetic. From simply cladding either horizontally, vertically or even diagonally, the orientation is your first consideration.
We carry a number of profiles as standard, each available in a range of widths, which can be installed as one uniform profile, or combined to create features and textures within your sauna.
Our standard sauna cladding options typically available from stock include: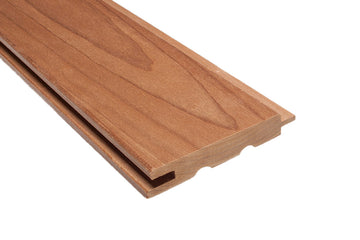 KALLIO PROFILE
Available in 90mm, 120mm and 140mm width
Kallio is a tongue and groove profile with a very fine radius on the edges, a choice between STP's strong radius and STS4's square edge.
This profile is always 15mm thick minimum in order to comply with Finnish building regulations. You can get cheaper thinner profiles however these are far more prone to warping and cupping but we do not work with these materials.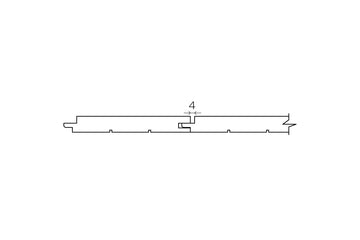 STS4
Available in 90mm, 120mm, 140mm width and sometimes 160mm width
STS4 is a tongue and groove profile with 90 degree, square edges for a sleek refined finish.
This profile is always 15mm thick minimum in order to comply with Finnish building regulations. You can get cheaper thinner profiles however these are far more prone to warping and cupping but we do not work with these materials.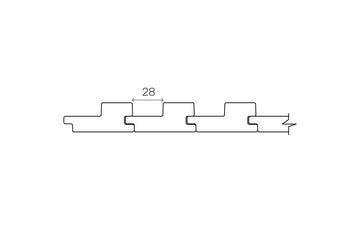 STEP
STEP profile is profiled to create a texture wall surface. It is an ideal choice for making a textured feature wall. In particularly narrow spaces, a wall of step profile cladding installed horizontally can help make a sauna feel wider.
Step Profile is 27mm thick and 64mm wide/tall.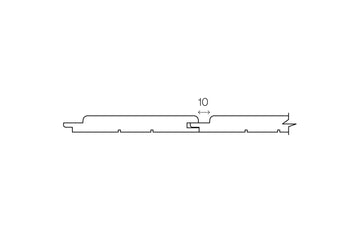 STP
Available in 90mm, 125mm and 140mm width
STP is a tongue and groove panel with notably rounded edges giving a smooth finish to the panels. There is a larger tongue length creating greater spacing between the raised sections of the cladding than STS4 and Kallio.
This profile is always 15mm thick minimum in order to comply with Finnish building regulations. You can get cheaper thinner profiles however these are far more prone to warping and cupping but we do not work with these materials.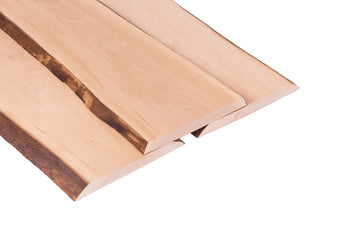 Rustic Unedged Planks
This is not really a profile but in fact the lack of one. These a planed finished boards that retain their original, natural edges. We offer waney edged planks like this in Alder as standard, and Kelo wood made to order.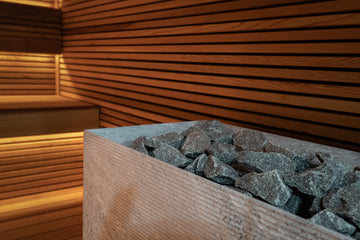 Mounted timber slats
A very celebrated design option of ours is to mount profiled sauna timber slats onto a dark stained sauna-safe ply back board. We mount these slats horizontally or vertically as full wall modules onto our sauna battens, creating an incredibly refined, modern interior. This process of securing the laths is done manually and is very labour intensive, making this style of sauna wall finish one of our most premium styles.
Typically made using 28x28mm, 28x42mm or 28x65mm boards mounted to the black ply with no visible fixings, glued and screwed from the back of the boards to make a solid secure wall panel.
LAYOUT OPTIONS
Your option of bench arrangement, heater placement and lighting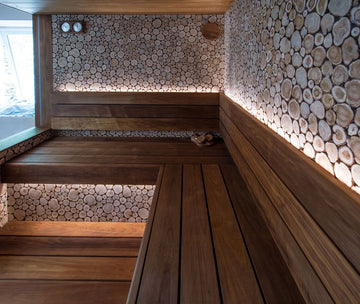 L Shape
L-shaped sauna benches are ideal for larger spaces with families or couples, where you would like to have two people lying on the top benches at the same time. The L-shape design allows for a more social environment than a simple upper and lower design. With an L shaped sauna bench system you will need to consider the location of the door and the heater to understand whether this is possible in your space.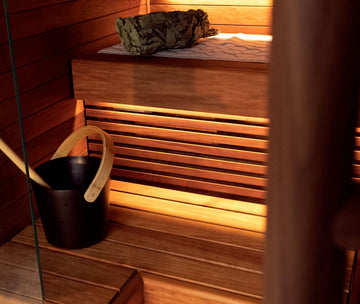 L Shape (Raised Floor)
Where space is at more of a premium and there it is too tight to have an L shaped sauna bench with a full lower bench, it is worth considering having an L shaped upper bench with a raised floor and steps on to this. With this design you get the benefits of two persons being able to lie down comfortably on the upper bench and the more social environment, even in tighter spaces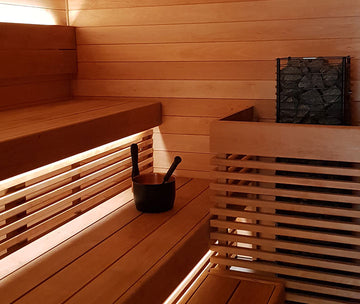 Upper and Lower
An upper and lower sauna bench is the simplest bench arrangement where two straight benches are installed along one side of a sauna room. This is one of the most space efficient and cost effective options for those who like the simplicity of this age old design.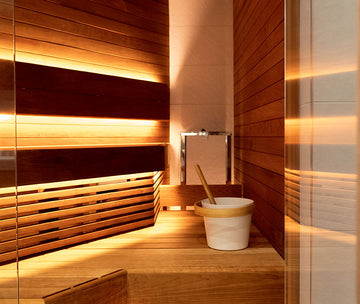 Upper and Lower (Raised floor)
Where space does not permit two benches plus legroom/a walkway, using an upper bench with a raised floor is an excellent consideration. We would never install a lower bench only as most users will spend around 90% of their time on the upper bench, up in the heat and humidity. Saunas with only a lower bench will struggle to feel hot as even with excellent ventilation, the heat and the humidity sits higher in the room.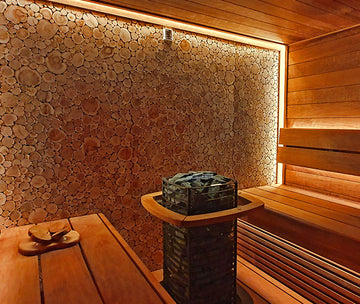 Opposing
Opposing bench systems are excellent for a pro-social sauna environment for family groups or in larger commercial sauna spaces. For this kind of layout you need a large enough space to have two benches on each side of the room, plus a walkway, and thus this layout generally requires a commercial sized heater. For a similarly pro-social design but for domestic spaces, our opposing raised floor designs are an ideal choice.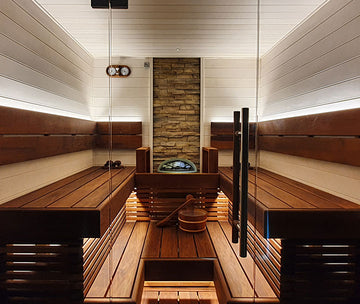 Opposing (Raised floor)
This excellent, highly social design allows two groups of people to sit and converse whilst enjoying a sauna or two sauna bathers to both lie down on the upper benches at the same time. We really love how dynamic this design makes the space, creating a centrepiece of the heater and lending itself well to feature walls and splashbacks as the user's focus is drawn to the end wall.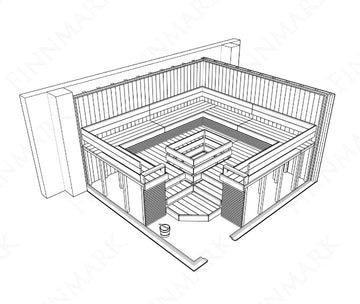 C shape or U shape
C shaped or U shaped sauna bench systems, often known as wrap around benching, is an excellent design for highly social spaces such as modern commercial sauna builds. It can be designed with upper and lower or raised floor, but both generally require a large space. The heater can be positioned centrally in some cases or on one end of the benching. Due to the large floor space required, this will generally require a commercial grade heater to meet the power requirements.
LIGHTING


It is really true that lighting makes a space, and getting this right is integral to creating the right atmosphere and complimenting the aesthetic. Sauna lighting is quite specialist as any lights used need to be ultra heat and moisture resistant. We choose to only work with Finnish brands, such as Saas Instruments and Ledify, that guarantee their lighting within the challenging environments of a traditional sauna.
Key considerations for lighting are whether it is direct or diffuse, dimmable or non-dimmable, spotlights, striplights, wall lights or fibre-optics. 
Sauna spotlights can help accentuate key features such as heaters or improve visibility in key seating locations. You can also cast spotlights onto the wall to make a more diffuse lighting.
Sauna striplights are ideally located in backrests and bench lips or either side of feature walls. They can also create interesting details within hidden bulkhead features.
Sauna wall lights are the simplest and most cost effective option. These are placed in corners or low down, often with wooden lampshade to help diffuse the light and reduce its impact.
Sauna Fibre-Optic sets are used for creating unique features of patterned points of small individual spots. These are commonly used to create 'starry-sky' effects in sauna ceilings.
SAUNA GLASS WALLS, WINDOWS AND DOORS


The use of glass in a sauna can be a real game changer if done correctly. If done wrong it can be a total disaster. 
Success or failure all comes down to accurate computational volume calculations. This is a calculation that takes into consideration the actual volume of the sauna space and combines this with factors for the area of single or double glazed glass, such as windows, doors and glass walls, as well as the type and R value of insulation. The more glass and lack of insulation, the more powerful the sauna heater needs to be. 
The computational volume is important to consider in comparison with the maximum power rating of the sauna stove achievable in your sauna. In essence, too much glass will mean a sauna which is never capable of getting up to temperature. This is just one of the many reasons why it is important to speak to a sauna specialist like Finnmark when designing your ideal sauna!
Full glass walls are an excellent way to curate your beautiful sauna installation. This can help turn your custom sauna into a real showpiece. A sauna with a full glass wall can also help make the sauna feel like a cohesive part of a larger space such as a poolside,  a relaxation space, a gym, a bathroom or a wetroom shower room area. When installing a full glass wall, this will often include a frameless glass door and one to two full panels of glass depending on the sauna layout, hinging from the glass or the wall respectively.
For all sauna glass walls or glass doors, hinges and glass hardware are a key consideration. For our glass walls we have searched exhaustively to find manufacturers that guarantee their hardware for sauna usage, and many don't. We specify sauna safe hydraulic, smooth-close hinges as standard. For glass doors we create a custom door frame to suit your needs from a matching timber type. We use non-perishable silicone or rubber seals rather than plastics, and have a range of stainless steel and aluminium glass hardware options. With glass walls you also have considerations on the U channels that hold the glass in place. These can be coloured on request, or depending on your space, sometimes they can be recessed to create a frameless feature.
Large windows can frame a beautiful view and be an excellent choice for saunas that look out onto a garden. We also sometimes specify 'letterbox' windows that allow users to look out and enjoy the view from the top bench but maintain privacy for the users. We love a sauna with a view and allowing natural light in is an added bonus. When installing sauna windows that look to the outside, we typically have two options. If the space we are installing into has an existing window, especially one that cannot be removed due to its location or perhaps as part of a listed facade, we would create an openable internal window in front of the existing frame that would protect it from the high temperatures and humidity of the sauna. If we are installing into a new build space or have the opportunity to fit a new window, we specify our ultra heat resistant double glazing units. Standard butyl-sealed double glazing will fail in the heat and lead to a condensation filled unit.
All of our bespoke installation glazing types, glass walls, doors and windows, come in an array of options for finishes and tints. Grey (darkened) and bronzed tints are popular choices for colour tints that improve privacy. Custom frosting and etching is also possible on request. Where large glass walls are fitted, the use of low-iron glass is a consideration as this removes the greenish tinge from exposed glass edges, a natural phenomena caused by iron in the glass. For all glazing exposed to steam and moisture, hydrophobic treatments such as Ritec are worth considering for one or both sides. Whilst a premium addition to the glass, it will reduce the amount of cleaning required for the glass considerably.
HEATERS


At Finnmark, our brand promise of quality, durability and authenticity means we only specify Finnish brands that are of genuine Finnish provenance, designed to withstand the harsh treatment that a Finn will give it. These heaters are rigorously tested to ensure their safety and reliability, even when water is poured over the stones - as it should be. Large stone capacity - important because… more stones softer heat environmentally friendly and industry leaders in efficiency and emissions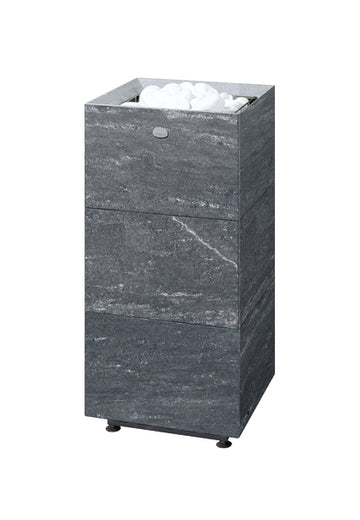 Tulikivi
Tulikivi are the world's largest producers of Soapstone products and pioneered the use of soapstone clad sauna heaters. Based in Juuka where soapstone has been mined since 1893, Tulikivi's sauna heaters are known for their sleek, refined aesthetic that is an ideal choice for the most design conscious clients. Utilising this 2.5 billion year old stone sourced from Karelia, Finland, unique for its fast thermal transmission properties and high specific heat capacity, Tulikivi sauna heaters exteriors boast a heat output on the sides of most heaters that is so gentle, that you can touch the surface of the soapstone without burning your fingers.
Safety being something Tulikivi pride themselves on and are known for. This in turn means these heaters have very small minimum safety distances and thus smaller overall footprints so fit into smaller spaces if necessary.
Tulikivi distinguish their sauna experience by heating the sauna rocks up to 400 C on the top which helps give a high-temperature steam. With their focus very much on premium domestic and premium commercial sauna installations, these iconic heaters and their high-quality construction, will make the eye-catching centrepiece in any electric, wood-burning or traditional savu sauna.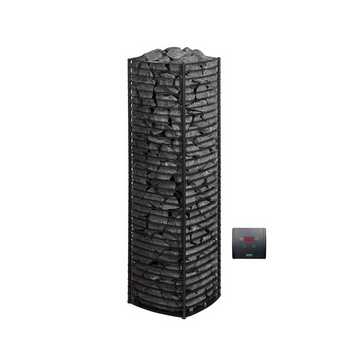 Narvi
With 85 years of sauna heater manufacturing heritage, Narvi are a proven brand. They are the largest, wholly Finland based sauna company on the market. Narvi have a diverse array of models and styles, owing to Narvi being forged from the union of 3 leaders in the sauna industry, Narvi, Kota and Aito. Based beside the beautiful Lake Narvi in central western Finland, Narvi are a quintessentially Finnish brand. With a staff of passionate sauna enthusiasts that drive their focus on the important facets of sauna heater design; stone capacity, build quality and Nordic design. From modern to traditional, rugged to refined, stylised to minimalist, Narvi seemingly have a model for every sauna design preference, across the whole price spectrum.
Narvi are obsessive in driving industry standards, whether that is emissions of their wood burning stoves, efficiencies of their electric heaters, as members of both the wood-burning and electrical standard groups they help shape a safer, more sustainable future.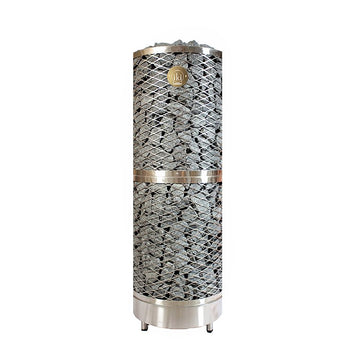 IKI
Iki, like Finnmark, are a Family run business.  Samuli's father, Jouni, built the very first Iki heater in 1990 when he couldn't find anything available that worked the way he wanted. As an avid sauna user, Jouni was getting tired of replacing heaters that couldn't keep up with his usage. Drawing on his career as a heating engineer and his knowledge of the mechanics of heating equipment, it became his mission to create the most robust sauna heaters available. Iki heaters' unique cylindrical design is inspired by the strength of the cylinder and its resistance to cracking. Both the heaters themselves and the fireboxes in wood burning heaters are cylindrical for this reason.
Iki's range of wood burning and electric heaters are assembled by hand and fabricated using only high quality stainless steel throughout. Designed for both domestic and commercial saunas, Iki heaters outclass most heaters in terms of stone capacity, as a great sauna steam comes from the stones. Jouni and Samuli's passion for quality, durability and relaxing soft sauna steam can be seen in every heater they proudly badge Iki
ADDITIONAL CONSIDERATIONS
Whilst any sauna puritan will say that the experience of the sauna is the whole experience, we appreciate that some of our clients like to enrich their experience with additional functionality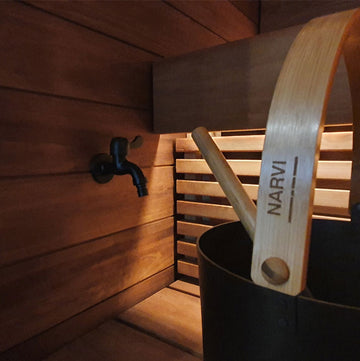 SAUNA TAPS AND WATER DISPENSER BUTTONS
Water is an essential component of any good sauna experience. The steam from water poured over the sauna stones is such an enjoyable part of the sauna experience that having the ability to pour more when you need it is key. That is why in some installations we look to include a tap so that the bucket can be filled without even needing to leave the sauna. It is also useful for thorough cleaning.
For the ultimate convenience, we have installed push button water dispensers. These systems can include sauna scents and essences with the water released from the sprinkler onto the stones, for an aromatic sauna steam. These premium systems represent the ultimate in sauna convenience and luxury.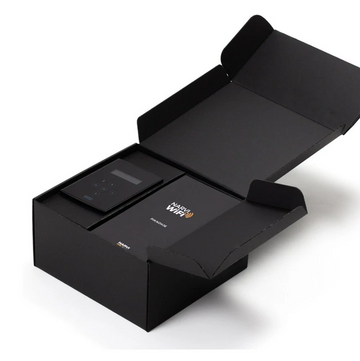 SAUNA WIFI CONTROLS
There are a number of sauna heater manufacturers that have developed and patented safe wifi controllers for remotely controlling your sauna. There are few options on the market, but we will only ever work with brands that excel in their safety as remote activation is one of the most significant fire risks in sauna usage. The wifi controllers have key failsafes to prevent wifi activation if they believe someone has left towels or other combustible items within proximity of the heater. These systems generally come with a range of hardware, such as sensors and external wall mount control units, as well as their own app to allow for remote control of the sauna heater. Whilst quite a premium piece of equipment, the sauna Wifi control systems are ideal for customers with very busy lifestyles where freetime is at a premium.
SAUNA SPEAKERS
Not all speakers are made equal. Just like lighting, the high temperatures and humidity of the sauna weighs heavy on speakers. We have a range of specialist heat and moisture resistant speakers ideal for use in the sauna, at a range of price-points, sound qualities and functionalities. From simple bluetooth connectivity to Sonos Sonance systems, we will help you find the perfect sauna sound system for you.
SAUNA TELEVISION
We feel a sauna is a space for relaxation, away from the busyness of modern life. A space to disconnect and unwind. That's why we generally don't recommend installing televisions into saunas. We understand that for some tech loving customers this is a must have though and therefore, on request, this is something we can provide. It is quite a complex consideration as there are no ultra heat and moisture resistant sauna safe televisions on the market. Instead, we have to create a heat and moisture safe enclosure that can still be accessed when required. This can only be done in certain circumstances where there is adequate space to create an internal sealed window with the TV behind and an access panel behind that.
ACCESSORIES
Of course, just like a bedroom or lounge, a sauna space really comes into its own once dressed and furnished. Therefore, getting the right combination of accessories that work with your sauna is an artform that we can help you with. You want your sauna seat covers to compliment your dressing gowns and towels, your bucket and ladle should match with your sand timer and your thermometer hygrometer set. You don't want your sauna accessories to look like an afterthought, so discuss an accessories bundle to match your space with one of our design consultants today! Alternatively, browse our selection online to get some ideas…