Our Service
Our bespoke sauna design and installation service is like no other. We provide a highly tailored, supportive and curated design process to ensure your dream sauna becomes a reality.
Our aim is to help you navigate the near limitless design options and material combinations, tailoring everything to your sauna space and all whilst ensuring that the key principles of Finnish sauna construction are followed to maximise enjoyment.
Our Chelsea installations include (but are not limited to) bespoke indoor sauna installations, installed into an existing basement extension or bathroom space.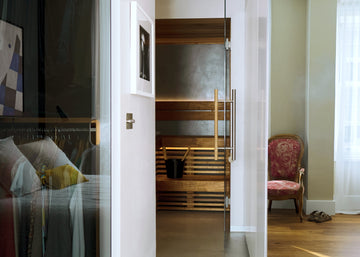 Authentic Finnish Sauna
We're experts at everything Authentic Finnish Sauna. If you have been to Finland and experienced Sauna, you will know that it's a daily ritual embedded into Finnish culture and facilitates enriched, personal relationships. We are always happy to talk you through the process, your choice of style, how the sauna is going to be used and the health benefits you will experience with frequent sauna use.
Chelsea, London: Bespoke Sauna Installation Areas
Chelsea Riverside, Redcliffe, Stanley, Courtfield, Brompton & Hans Town, Earl's Court, Abingdon, Queens Gate, Notting Dale, Norland, Holland, Dalgarno, Colville,
SW1, SW3, SW10