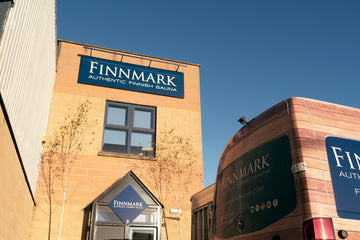 We at Finnmark Sauna are the UK-based specialists in authentic sauna experiences.
Founded in 2016, when brothers Jake and Max made it their mission to share their passion for authentic sauna experiences. After falling in love with the sauna experience in Finland and across the Baltics, it was clear to them that saunas in the UK were a distinctly
poor appropriation of the real deal. A sauna is an experience to be enjoyed, not simply tolerated, and when you do it right, it's a truly relaxing, enjoyable and healthy experience...
Whether you are looking for a full bespoke sauna installation, sauna equipment and/or heaters for a self-build sauna project, or just need some advice on how to build a sauna properly; we are here to help!
"So few saunas gave credence to the authentic Finnish sauna experience"
Finnmark Sauna exists due to our co-founder's (brothers Jake and Max –lovingly nicknamed "the sauna twins") frustration that so few saunas outside of Finland gave credence to the authentic Finnish sauna experience. When used properly, a sauna is a truly enjoyable, relaxing, and healthy experience that can be appreciated over the course of a few hours, not simply tolerated for 10 minutes after a workout.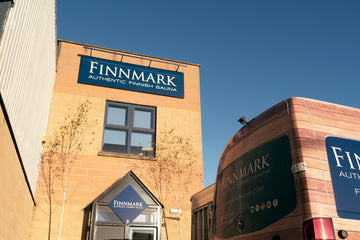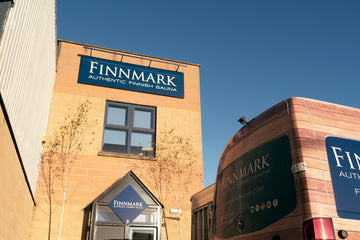 At Finnmark Sauna, our bespoke sauna installations are uniquely designed to do justice to the authentic Finnish sauna experience.
We combine millennia-old traditional construction techniques, such as stressing the importance of the right sauna layout and correct ventilation, with cutting-edge modern design practices like detailed CAD design and Virtual Reality renders. We do not sell hot tubs, swimming pools, steam rooms, Hammam or Rasool. We are not a 'spa company', we simply focus on being the best at delivering quality, authentic Finnish sauna.
The Finnmark Sauna 'Endurance Ethos' means that we
choose to only stock quality products that will really last. We know
that value for money is not about things being cheap, it's about having a
durable and hard-wearing product that you won't have to replace time
after time. It is our belief that the high-quality products we sell
should be sold once, at a fair price, and thus we do not sell any
products that will deteriorate prematurely or become obsolete.


Many of our products, if correctly cared for, can be used and treasured
throughout not only your lifetime, but your children's and
grandchildren's lifetimes too! Our 'Endurance Ethos' is inspired by Nordic practical thinking, environmental awareness and of course, a love for well-designed, quality products.
This endurance ethos is just one of the ways we maintain our brand promise;
a promise of Quality, Authenticity & Durability for all our
products and services. If a product that we have tested does not meet
the guidelines of our brand promise, we will not sell it. This means
that we only sell products that lead the market in authenticity and
build quality; from our CE marked Finnish-made sauna heaters to our
ecologically responsible and luxurious Jokipiin sauna linens. This
promise also extends to all of our sauna installations. We use only the
highest quality materials that have been designed and treated
specifically for use in sauna environments. On top of this, we ensure
that all our saunas have been constructed using time-tested traditional
Finnish construction techniques, such as proper ventilation and
insulation, to ensure you are truly getting an authentic sauna experience.
Our passion for sauna has led to our Education First approach.
We have given lectures on Finnish sauna design, presented the keynotes speech at the World Sauna Forum in Jyväskylä and also supported countless RIBA architects and renowned Interior Design firms. Alongside this, we have worked with Olympic medallists, Film & TV stars, and Health Gurus.

We also regularly blog, vlog and write How To's on all things Finnish sauna. This includes hosting informal interviews with sauna enthusiasts, the testing and reviewing of various sauna equipment, and posting 'whiteboard webinars' to explain important features of sauna construction & design.
We are only a phone call away should you have questions, and we are always happy to help!