Outdoor
Bespoke sauna installations
Sauna room preparation
We start our installations by applying fire line board toany non-masonry walls. A safety precaution we takeout of choice, and something we believe we are uniquein specifying You can safely insulate and vapour seal saunas acouple of ways, but we specify the more durable and more comprehensive use of specialist sauna PIR insulation, with brands such as Finnfoam and Kingspan Sauna Satu. Properly insulating and vapour sealing is acritical part of your sauna build as it protects your house from the heat and the humidity within the sauna,and ensures quicker heat up times with better energy efficiency. To allow the cladding to breathe and improve longevity, we space our cladding from the vapourbarrier layer using battens. However, we don't just use
raw timber for this, as that would warp over time and itself be a moisture trap. We have our own proprietary thermo treated battens which are far more dimensionally stable, durable and moisture resistant. Ventilation is a critical consideration for all saunas as you need fresh air in and exhaust air out to ensure a relaxing, healthy sauna experience and prevent a stuffy, nauseating sauna. Most sauna heater manufacturers specify a number of air turns required per hour (usually six), and well modelled ventilation will also help prevent stratification, ensuring all of your body experiences the relaxing heat and steam, not just your head. These are things we do for all our installations asstandard that we are confident you are unlikely to find anywhere else!
Spruce
Spruce
Spruce (Picea abies)

Spruce is an entry level sauna wood type that we generally avoid using in our bespoke installations. Whilst fairly durable, it tends to quickly darken and can become brittle as well as weeping molten resin from its knots. It can be used to better effect in small feature-areas to add some texture. This may be a consideration for smaller, very budget conscious installations.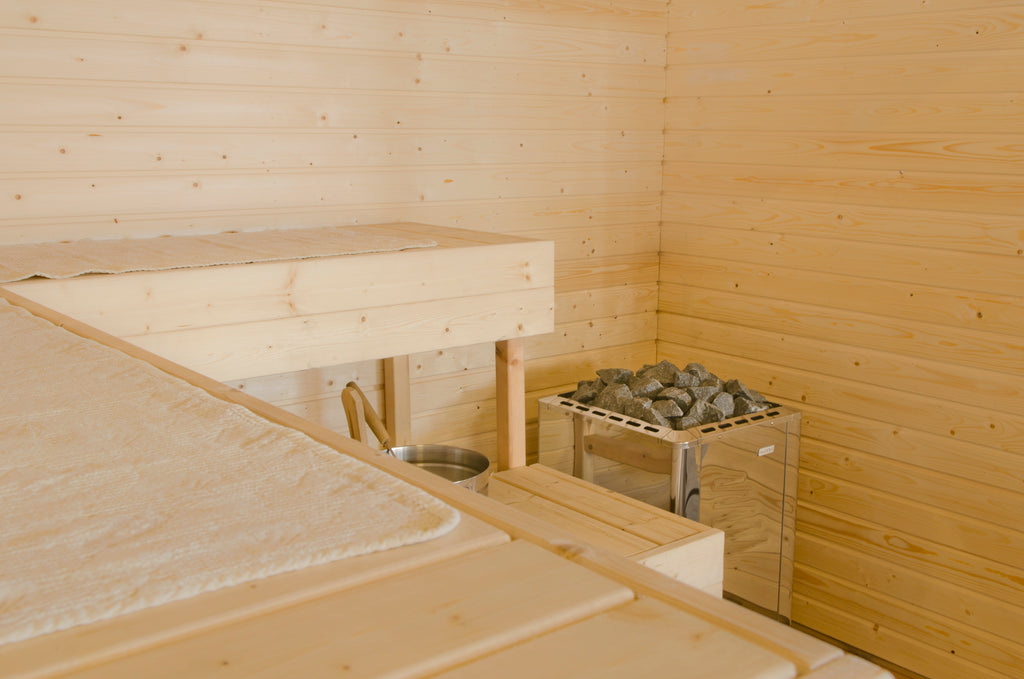 Thermo Spruce
Thermo Spruce
Thermo Spruce

Thermo spruce is the thermo treated version of our entry level sauna wood Spruce. The thermo-treatment process makes the wood more durable than its not-treated counterpart. The thermo treatment process also removes the resin so no risk of weeping molten resin from its knots. It can be used to good effect when brushed to create a rustic, distressed aged wood effect, complimenting equally an agrarian barn-like setting or Swiss Chalet. Thermo-spruce is typically slightly more cost effective than thermo pine, though this is noticeable in the quality of the finish.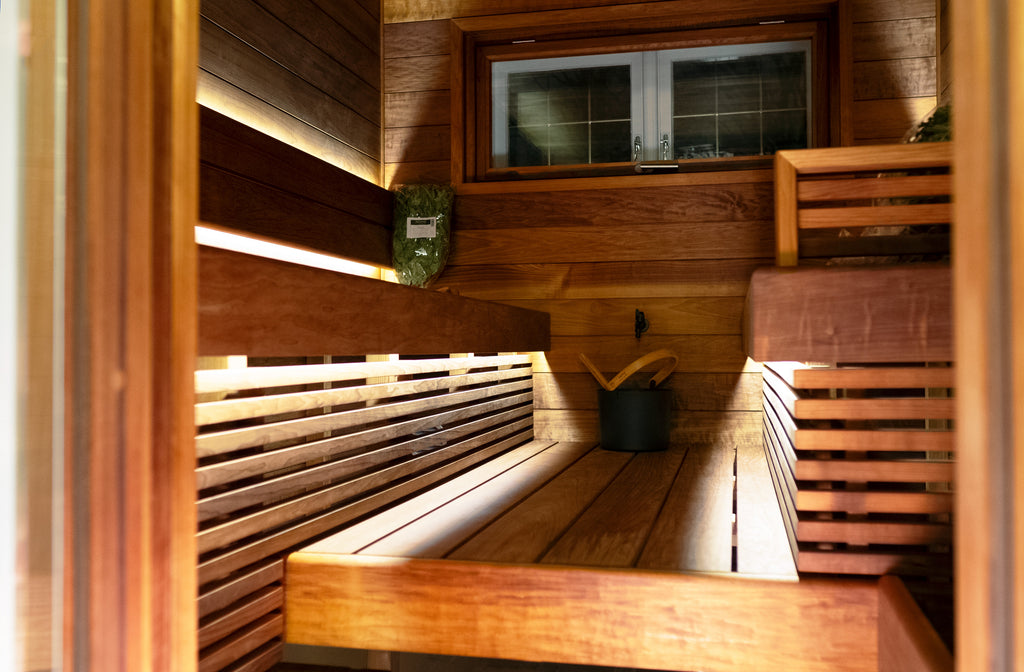 Thermo Pine
Thermo Pine
Thermo Pine (Pinus sylvestris)

Thermo pine is a dark, chocolatey coloured sauna timber with a slightly toasted aroma. This sauna wood type is known for its durability that is achieved through a thermo treatment process, making it a durability class two timber. Thermo pine has natural knots that can be slightly cracked, although this more rustic aesthetic appeals to some sauna users. It is the most economical thermo treated timber, so a good choice for the durability conscious buyer on a budget. Thermo pine is ideal for home saunas that are in frequent use, with high exposure to moisture and humidity such as outdoor or garden sauna installations. It is a good option for younger family groups as it is highly resistant to dirt.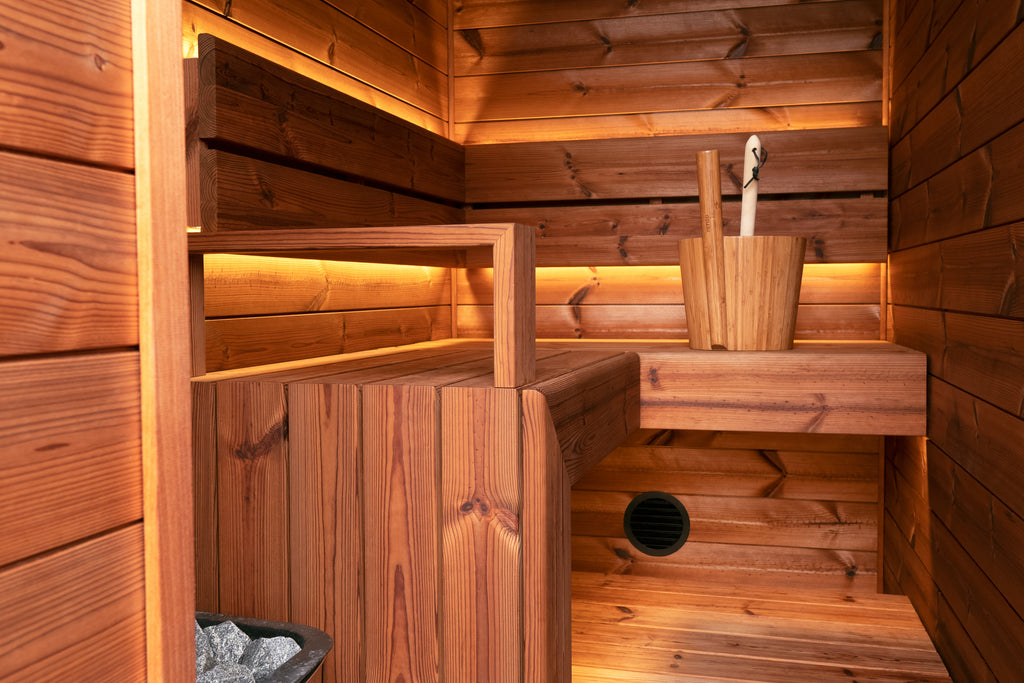 Thermo Radiata Pine
Thermo Radiata Pine
Thermo Radiata Pine (Pinus radiata)

Thermo Radiata Pine is a thermo treated sauna wood species originally from the West Coast of the United States, though predominantly now grown for forestry in New Zealand. Radiata Pine's rapid growth makes it among the most cultivated coniferous species in many parts of the world. This Pine variant boasts very few if any exposed knots and in turn does not secrete resin when hot, coupled with its low density and resistance to splitting and splintering, it is a great choice for sauna benching and cladding. Once thermo treated, it has a beautifully contrasting striped grain colour and patternation, and a smoother finish than standard thermo pine. Availability of Thermo Radiata is more seasonal and may have longer lead times and naturally more premium than regular thermo pine.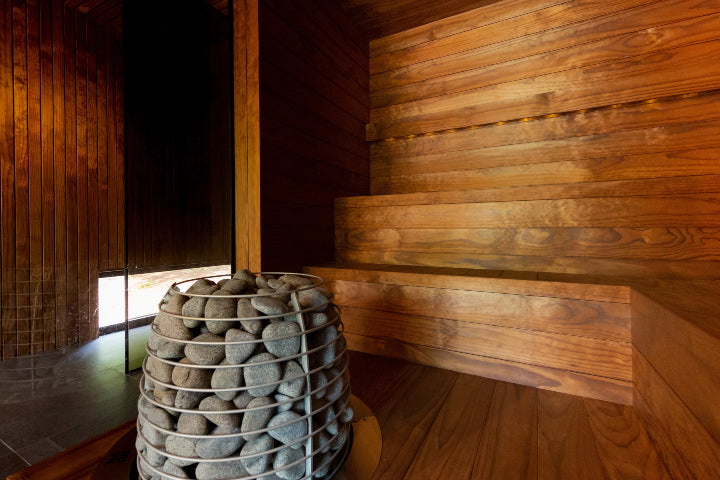 Aspen
Aspen
Aspen

This sauna wood is the lightest in our selection, ranging from a very light brown to almost white. The colour and straight, uniform grain make aspen ideal for a sleek, elegant, modern aesthetic in a home sauna. Aspen does not weep resin and boasts few to no knots. Although an excellent sauna timber, chosen for it's preferable characteristics in the sauna, it gets hotter to the touch than less dense timber types like Western Red Cedar. As a light sauna timber, dirt is more visible on the surface in comparison to other wood types. However, this can be easily avoided by using sauna seat covers or remedied by using sauna safe cleaning products and treating the surface of the timber with paraffin oil. We would typically recommend aspen in modern styled properties, in an indoor sauna frequented by adults rather than families.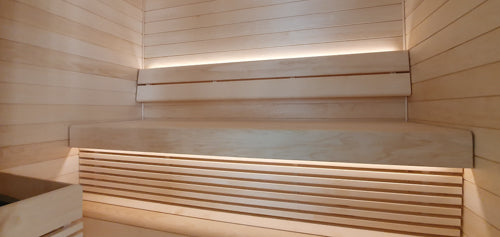 Thermo Aspen
Thermo Aspen
Thermo Aspen

Thermo Aspen is one of the most popular sauna timbers these days. This is due to it's combination of being almost entirely knot free, a thermo wood that boasts enhanced durability and having a sweetly toasted aroma and being one of the lightest thermo woods available giving it a light to mid-tone burnt sienna hue. It is the ideal choice for those seeking a thermowood but with a preference for lighter timber tones.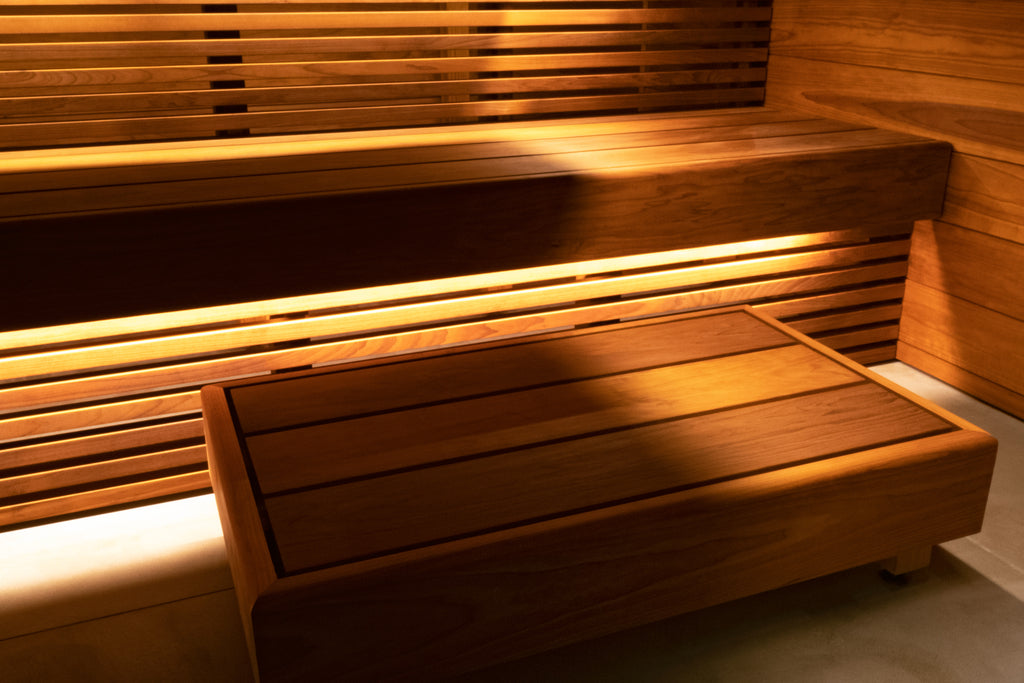 Alder
Alder
Alder (Alnus glutinosa)

Alder is a popular wood type in home saunas. Alder has historically been used in high moisture environments and is often used in building the submerged sections of jetty's. It is smooth timber that carves to a nice finish making it highly preferable for turning and bowl making. It also leaves a beautiful finish when profiled for sauna use. It is considered a hard softwood and thus is cooler to the touch. With a low risk of warping and twisting, it is ideal for the high-temperature and humid sauna environment. Depending on lighting, its colouration varies from a reddish light wood colour to a warm pink salmon hue. It has a pleasant slightly meally aroma. As with other non-thermo treated sauna timbers such as aspen, we recommend treating alder with paraffin oil to improve its longevity.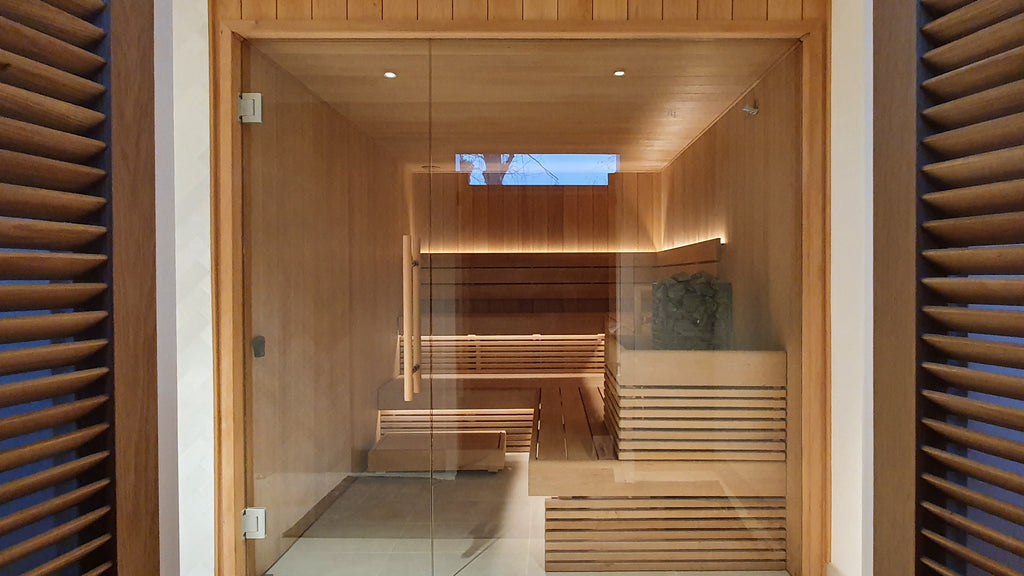 Dark Thermo Alder
Dark Thermo Alder
Dark Thermo Alder

By undertaking a more intense thermo treatment process, a much darker thermo wood can be attained. This is something done to great effect with Alder, to produce Dark Thermo Alder. It has an intense dark brown colour and very intense, toasted aroma. It is a good choice for those that appreciate the darkest colour palette for their sauna wood, perhaps for those seeking a more meditative sauna aesthetic, though it's strong scent may be a little intense for some. As with all thermo woods, Dark Thermo Alder is naturally durable and dimensionally stable for use in a sauna. Due to the additional processing required to produce this sauna wood, the additional time required to work with intensely thermo-modified timbers in our workshop, and it's limited availability, this is a more premium sauna timber option.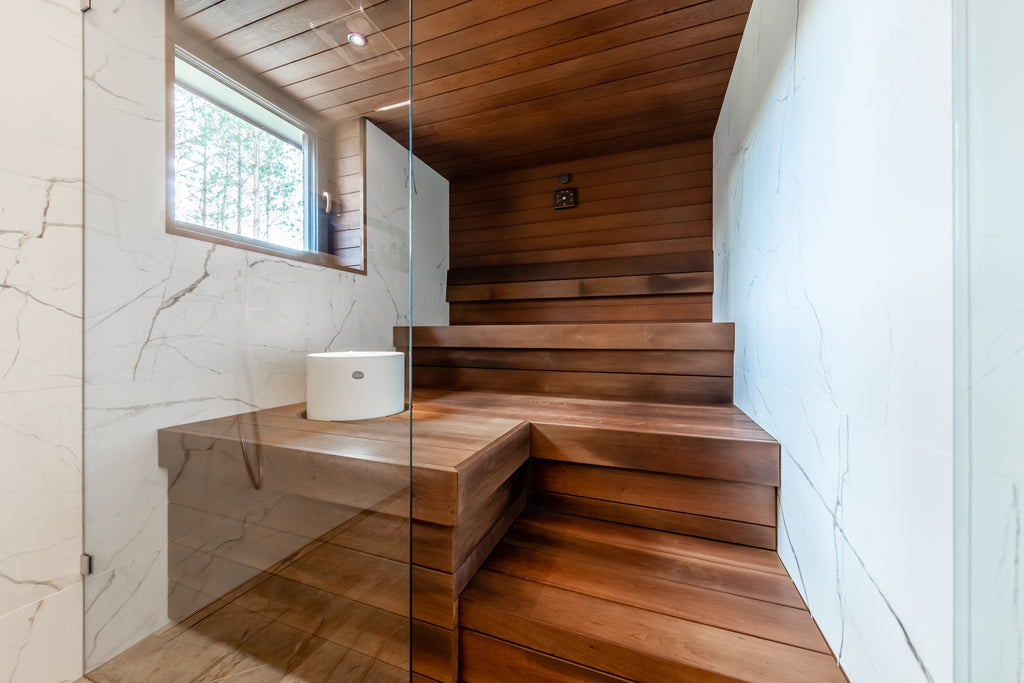 Juniper Log Stack
Juniper Log Stack
Juniper Log Stack

This unique sauna panelling option has an incredible, fragrant aroma and a captivating texture, making it a popular addition for feature walls and 'splashback' sections behind heaters. The panelling is handmade to suit your specific size and the rings of Juniper can be matched up between panels to make a near limitless length run without the need for visible joins. Each disk of juniper is glued to a sauna-safe plywood and mounted to our battens just as you would mount normal cladding. It can be fitted on any vertical surface in a sauna and we have done sauna installations with this on every vertical surface! It is an ideal choice for anyone wanting to bring texture and aroma to a sauna and makes for great feature walls, especially when side lit with hidden Saas Instruments Sauna-safe strip lighting. As a woodtype, Juniper cannot be used for benching and thus this panelling should be matched with another wood type for the sauna benches.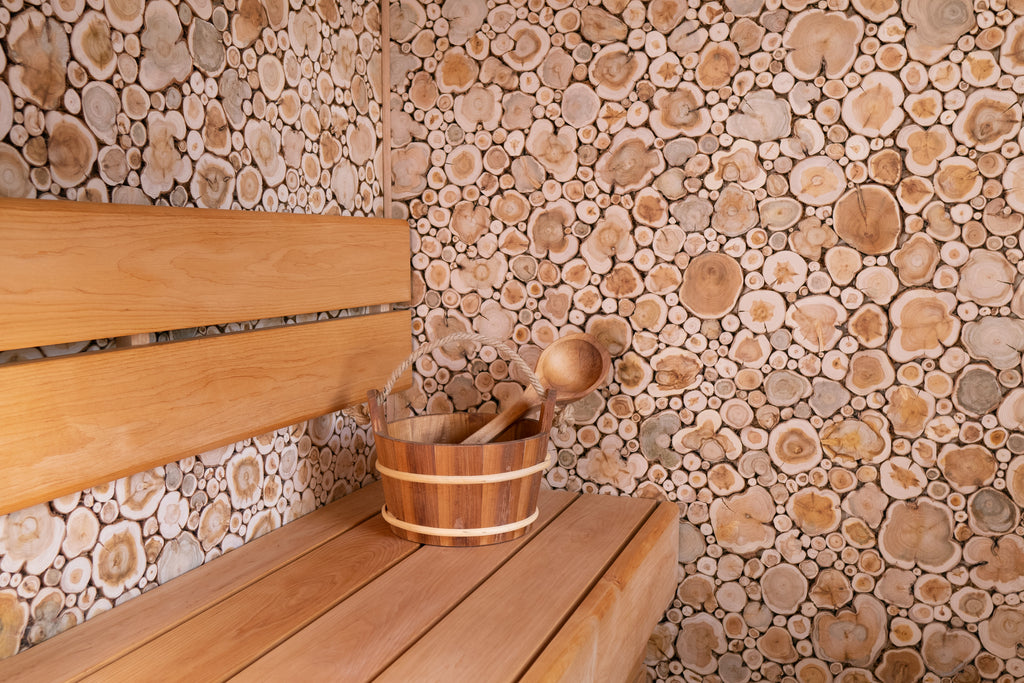 Birch Log Stack
Birch Log Stack
Birch Log Stack

The Birch log stack effect panel is similar to our Juniper log stack panel, without the strong aroma and with more of a rustic traditional aesthetic. This wall panel is Ideal for making a feature that looks like a stack of split firewood. Each split piece of Birch is mounted to sauna-safe plywood and mounted to our battens, much like regular tongue and groove sauna cladding. The split log stack panel matches nicely with light timber types like aspen or contrasted with dark thermo-treated benching.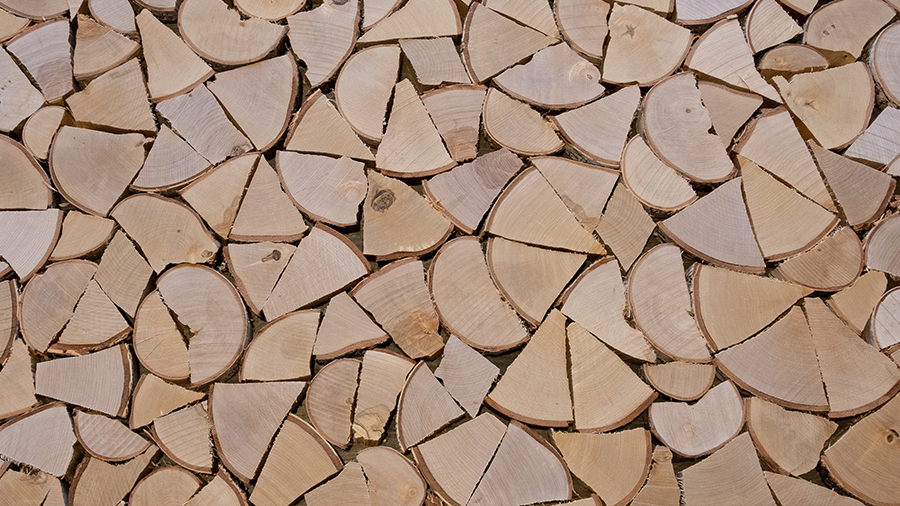 Unedged Rustic Alder
Unedged Rustic Alder
Unedged/Waney Edged Rustic Alder

The waney edged or unedged alder plank cladding is the ideal option for a very rustic, traditional sauna cabin. Each thick board is mounted in an under-over fashion that allows the unique edges of each surface board to be visible. For those who appreciate the log cabin aesthetic, without the exterior space for a traditional log cabin, or for those just looking for something that celebrates woods naturally unique shape and appearance, this is an excellent choice. Due to greater thickness of the cladding Requires larger build up as boards are fitted under-over and are naturally thick boards which should be considered if you are designing into a smaller space.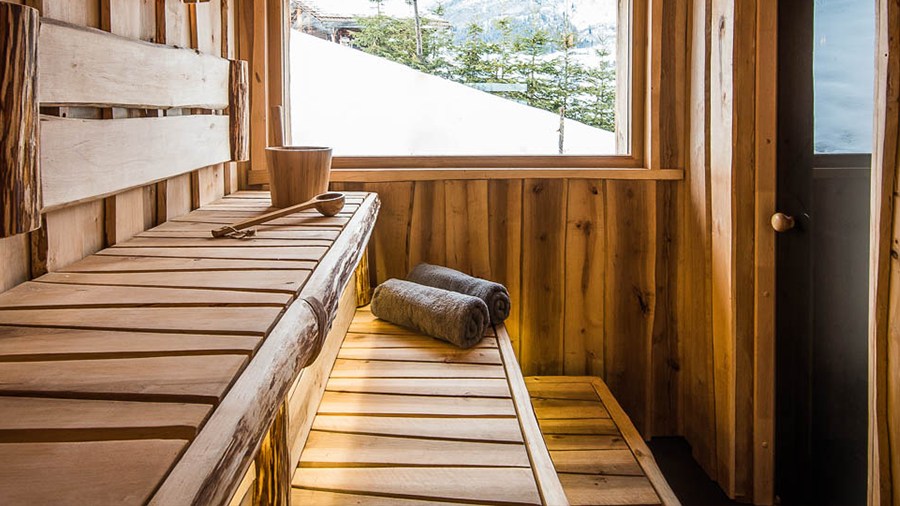 Western Hemlock
Western Hemlock
Western Hemlock

With a light buff colour, soft touch and coarse grain, Canadian Hemlock is well suited for sauna interiors. It is durable, relatively knot-free and is noted for its resistance to warping within warm environments. Hemlock re-radiates the heat evenly, without hotspots, making it pleasant to touch. Canadian Hemlock also has a delicate but enjoyable aroma. Hemlock is sourced from North America and is profiled to order, with typically much longer lead times than our other options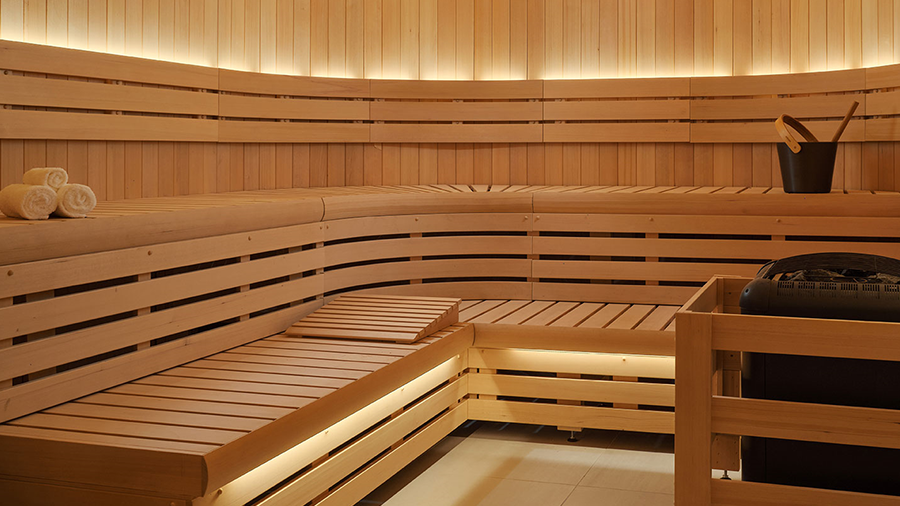 Western Red Cedar
Western Red Cedar
Western Red Cedar

Among the most premium timber options, this wood is a very popular choice for sauna installations. It is a softwood with a distinctive grain pattern and attractive, varied colouring that ranges from pale creamy yellow to rich reddish-brown. This unusual textured colouration makes it highly unique, each board like a fingerprint. As a sauna wood, cedar is known for its beautiful and instantly recognisable pleasant scent. Cedar is a great choice for naturally resilient sauna timber. It is recognised for it's antifungal and insecticidal properties, and it's resistance to heat and moisture, make it an excellent sauna wood that can retain its shape and integrity for many years if well maintained. Twinning Western Red Cedar with a paraffin oil wood pretreatment will help ensure that unlike external cedar cladding, the wood will retain its original colour and not silver down.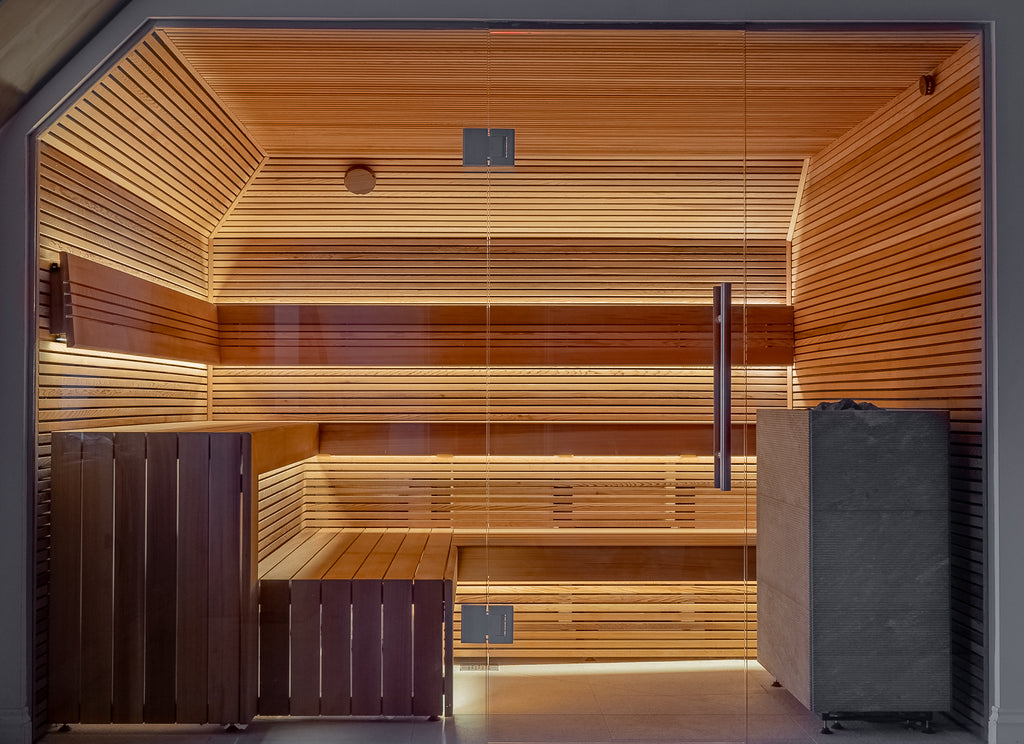 Thermo Ash
Thermo Ash
Thermo Ash

Ash is a strong hardwood noted for its durability, stress resistance and decorative purposes. Thermo Ash is primarily made from American ash which is known for its attractive texture that beautifully complements exterior walls. Thermo ash is highly prized for exterior cladding and decking but, as a hardwood, is too dense for use as sauna benching. It can, however, be used in some instances as beautiful sauna cladding. Our thermally modified ash takes on a dark brown hue with a distinctive grain texture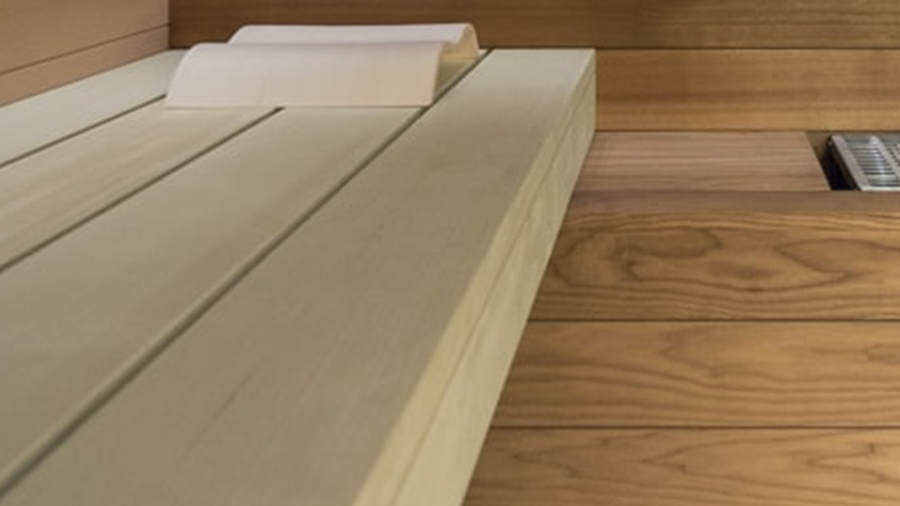 Thermo Magnolia
Thermo Magnolia
Thermo Magnolia

Magnolia, sometimes known as the tulip tree, belongs to the magnolia family. The wood in its raw form has a creamy, golden hue with darker patches, and a pattern similar to that of ash or radiata pine. Once thermo treated, the wood takes on it's remarkable, luxurious, refined finish. Coupled with its low density, it makes for perfect sauna cladding, sauna benches, and even exterior paneling. Generally only available in wider cladding and bench boards. It is a very premium sauna option typically with long lead times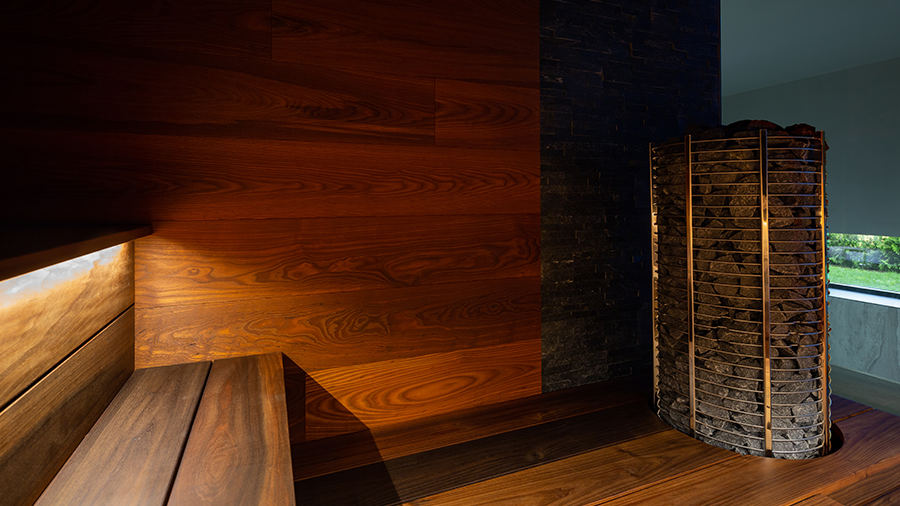 Kelowood
Kelowood
Kelowood (Rustic Deadwood Spruce)

The noble Kelo wood is ideal for a sauna where a rustic aesthetic is desired. Recognised for its bare bark, it brings a piece of Lapland to any sauna. Kelo is born from an upright dried pine-tree that has dropped its bark. The formation of a Kelo takes centuries (200-300 years) after which the tree can still stand for many decades. The helical structure of Kelo wood improves its stability and resistance to warping.
Kelo has a grey exterior with red tones in its heartwood. The cracks and burls of this rustic sauna wood are what makes it unique. It is a true symbol of Northern nature. Kelo imparts its incredible rustic aesthetic in a sauna with the use of lightweight panels, 'kelo panel'. Kelo panels are wall sections made of kelo wood that allow us to turn any wall into a genuine kelo surface and bring a bit of Lapland to you. Kelowood planks can also be used as under-over cladding boards like unedged alder planks. These Kelo planks can also be used to create a highly rustic sauna benching.