CONSULTATION TO PROPOSAL


From initial contact, we will give you your own dedicated design consultant to guide you through your sauna journey. They will work with you to assess the most feasible space, explore different sauna layout options, and discuss your material palette and style preferences. Their role is to help guide your choices based on your sauna design preferences, budget expectations and your usage requirements.
Your choices and room specifics are then given to our experienced design team to create your own personalised sauna design proposal.  They will work to combine all of your requirements for your sauna installation into a beautiful sauna design that also upholds the principles and methods of traditional Finnish sauna construction, and our brand values of quality, durability and authenticity.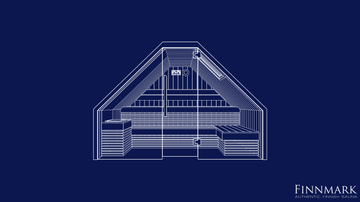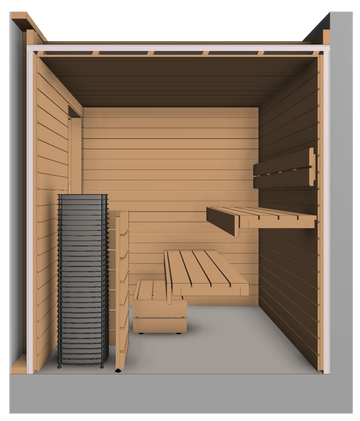 VISUALS & RENDERS


Our detailed design proposal documents will allow you to visualise the sauna installation with clear and detailed visuals and renders. It also includes technical information to help you understand how the sauna fits within the space, including highlighting key services like sauna ventilation and power supply, as well as a clear breakdown of costs. As we work to a fixed overhead and stand by our "No Haggle Guarantee", you can be confident you are getting our best price first time.
PROJECT MANAGEMENT


As experienced sauna builders, we regularly work alongside and collaborate with clients' architects, main contractors, and other stakeholders to ensure a smooth sauna installation process. This includes keeping in regular contact to ensure any adjacent siteworks are on schedule and that they are ready for us to install. We provide detailed phase plans, create clear sauna mechanical and electrical requirement documents, review the key interaction points/interfaces between trades to ensure nothing is missed, and of course, provide rigorous site-specific risk assessments and method statements. Whilst it sounds simple, thorough project management ensures minimal stress and prevents unnecessary additional costs!
From full turnkey services where we project manage the installation, to collaborating with other trades in large, multi-stakeholder commercial construction operations, we will work with you to ensure that the construction of your sauna is as relaxing as using your sauna!
Our experienced teams of installers and our in-house delivery team boast centuries of combined construction industry experience. We have a robust delivery process that is managed by our program manager and installations manager and all overseen and quality assured by our Head of Operations. It is this rigorous process and our uncompromising attention to detail and a perfect fit and finish, that will ensure you will have a beautiful, enjoyable bespoke sauna installation for many years to come.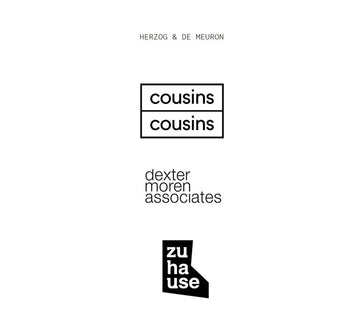 Owing to the highly involved and meticulously planned nature of our works, our installations start from around £20,000.
If this is beyond your reach but you share our passion for a quality authentic sauna experience, you may want to consider our Design and Materials Service.